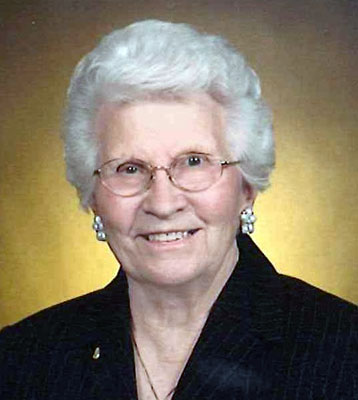 VERA J. BROWN
BOARDMAN – There will be services at 11 a.m. on Tuesday at the Boardman United Methodist Church for Vera J. Brown, 98, who died Tuesday evening at Hospice House.
Mrs. Brown was born May 7, 1914, in Norristown, a daughter of Leon and Martha Tinlin Newbold.
She was a 1932 graduate of Carrollton High School. Vera was a homemaker and she loved to garden and raise flowers. She was very active in her church and Masonic organizations.
Vera was a member of the church for over 65 years, where she was a Sunday school teacher and a member of the chancel choir. She worked in the kitchen for many church dinners over the years and was active with Bible school. She was a member of Sarah Circle and the Questors Club.
Vera was a member of Miriam Chapter No. 278 Order of Eastern Star, Canfield Court of Amaranth No. 39, and Faith Court of Amaranth No. 43 in Salem. She also belonged to the Warren Assembly, White Shrine, Beauceant, and also the Dublin Grange in Canfield.
She leaves her daughter, Jane (Kim) Noel of Struthers; her son, Earl T. (Nancy) Brown II of Warren; her son-in-law, Richard Pavlicko; her sister, Arlene Kaser of Mechanicstown; her grandchildren, Kevin (Heather) Brown, Kelly (Russ) Sigworth, Jody (Angela) Brabant, and Eric (Kristina) Pavlicko; and her nine great-grandchildren.
Preceding Vera in death were her husband of 54 years, E. Tom Brown, whom she married on Aug. 16, 1939, and who died Jan. 17, 1994; her daughter, Jean Pavlicko; and her brothers and sisters, Derward, Gladys, Basil, Ray, Ralph, Thomas and Nova Jean.
Friends may call Monday evening from 5 to 8 p.m. at the Lane Family Funeral Homes, Anstrom Chapel, 8387 Tod Ave. in Boardman and from 10 to 11 a.m. Tuesday at the church, prior to the service.
Family and friends may visit www.lanefuneralhomes.com to view this obituary and to send condolences.
Guestbook Entries
« Be the first to sign VERA J. BROWN guestbook.
---