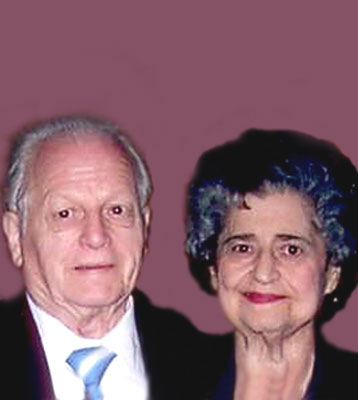 MICHAEL ZACKASEE
"Together Again"
CAMPBELL – Funeral services will be held Monday at 9 a.m. at the Wasko Funeral Home, and at 9:30 a.m. at St. Nicholas Byzantine Catholic Church, for Michael E. Zackasee, 82, who died March 31, 2013, Easter morning, peacefully at his home surrounded by his loving family.
Michael was born Dec. 16, 1930, in Campbell, son of Michael and Sophie Zackasee.
He was a 1949 graduate of Campbell Memorial High School. He worked for Thorton's Dry Cleaners before serving in the U.S. Army Signal Corp from 1951 to 1953, during the Korean War. He worked for Ohio Bell/AT & T for 33 years. He was honored for his service with them, as being the only employee who had perfect attendance. He was a toll test man and was part of the advancement in communications that took place from 1957 to 1999. He catered through St. Nicholas Activity Center with his wife, Mary, for 15 years. He also drove the school bus for Campbell Schools.
He was a member of St. Nicholas Byzantine Catholic Church, where he was active in the Byzantine Men's Association, Knights of Columbus, Third Degree, where he served as a Grand Knight and was named Man of the Year, and volunteered countless hours at the church's festivals, spaghetti dinners, Steak Fry's, Fish Fry's, and bingo nights. He also managed the St. Nicholas Pirohi House with his wife for 35 years. He was also a member of the Telephone Pioneers, and Greek Catholic Union Lodge 252 and volunteered for the VFW 3538.
His wife, the former Mary Homulos, whom he married Oct. 12, 1957, passed away Jan. 26, 2009.
He leaves behind two daughters, Carole (Donald) Bullock of Houston and Marilyn (Tom) Blackstone of Campbell; grandchildren, Ralph (Candy) Rivera of Boardman, Marie (Nicholas) Love of Campbell, Matthew Bullock, Michael (Rebecca) Bullock and Jenna Bullock of Houston; great-grandchildren Jaden and Sophia Rivera and Ava and Carleigh Bullock; sisters Mary (John) Bell of Lowellville, and Loretta (Steve) Kovach of Austintown; a brother, Steve (Dolly) of Campbell; and several nieces, and nephews.
He was preceded in death by his parents; his wife, Mary; his son-in-law, Ralph Rivera of Campbell; sister, Katherine Zackucia of Campbell; and brother, John Zackasee of Hubbard.
Michael was a loving husband, father, grandfather, great-grandfather and friend. He was a hard worker and loved spending time with his family. He will be sadly missed by all who knew him.
The family would like to extend a special thanks to Dr. Robert Spratt and his staff and also Dr. Gregory Blasko and his staff for their compassionate care, patience and understanding.
The Zackasee family has entrusted their loved one to the care of the Wasko Funeral Home and will receive friends Sunday from 2 to 5 p.m. with a prayer service at 5 p.m.
Visit www.waskofamily.com to view this obituary and to send the Zackasee family condolences.
Guestbook Entries
sparkle market co-worker
"Sorry to hear about your brother.I know what it like to lose a brother. May he rest in peace and find comfort with God. Carol and Joe Damore"
» carol damore on April 6, 2013
OBT
"I WILL MISS YOU MICHAEL, WORKED WITH YOU FOR YEARS AND YEARS ,WAS AT THE PARTY FOR NO MISSED WORKED"
» ROY E DAVIS on April 6, 2013
Sign the Guestbook
---