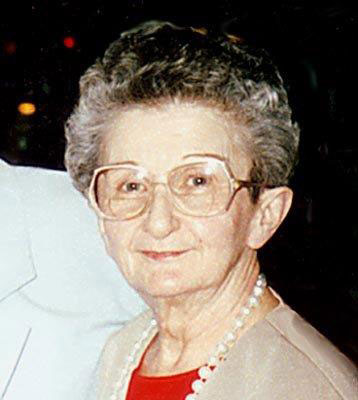 ELSIE J. KOBASUK
BOARDMAN – Elsie J. Kobasuk, 87, passed away early Friday morning, April 5, 2013, at Greenbriar Healthcare Center in Boardman following a brief illness.
Elsie was born Aug. 4, 1925, in Cleveland, a daughter of the late Frank and Helen Starrie Malenky, and spent most of her life in the Cleveland area, moving to this area about eight years ago from Parkman.
She was a graduate of James Ford Rhodes High School in Cleveland, was a homemaker, and worked as a seamstress with her mother at their shop, the Shirt Hospital in Cleveland, and later owned and operated Lord Ashley Custom Shirts in downtown Cleveland.
Mrs. Kobasuk was a member of St. Anne Ukrainian Catholic Church in Austintown, where she was a volunteer with the parish's pyrohy project. Elsie was also a former active member of St. Michael Byzantine Catholic Church in Newton Falls.
Elsie's husband, Michael Kobasuk, whom she married in 1947, passed away in 1999.
She leaves two sons, Rev. Maxim Michael Kobasuk, OSBM of Stamford, Conn. and Mark (Barbara) Kobasuk of Cincinnati; her daughter, Carol Pandolph of Boardman, with whom she made her home; five grandchildren, Angela and David Pandolph, and Christopher, Lauren, and Katie Kobasuk; a sister, Ruth (Eugene) Portz of Phoenix; and a sister-in-law, Eileen Malen of Texas.
Besides her husband, she was preceded in death by an infant son, Peter Kobasuk; and a brother, Fred Malen.
Family and friends may call from 5 to 7 p.m. on Sunday, April 7, at Kinnick Funeral Home, 477 N. Meridian Road, Youngstown, where a Panachida will take place at 6:30 p.m.
Funeral services will begin at 12:30 p.m. on Monday at the funeral home, and continue at 1 p.m. at St. Anne Ukrainian Catholic Church, at the corner of Kirk and Raccoon Road.
Interment will take place at 1 p.m. on Tuesday, April 9, at Holy Cross Cemetery in Brook Park, where Elsie will be laid to rest next to her husband.
Visit kinnickfuneralhome.com to view this obituary and to send condolences online to Elsie's family.
Guestbook Entries
"Fr. Maxim, I'm so sorry to learn of your Mom's passing. I always enjoyed her during my visits to Austintown. May her memory be eternal! God bless you during this time!"
» Hierodeacon Joseph on April 6, 2013
Sign the Guestbook
---