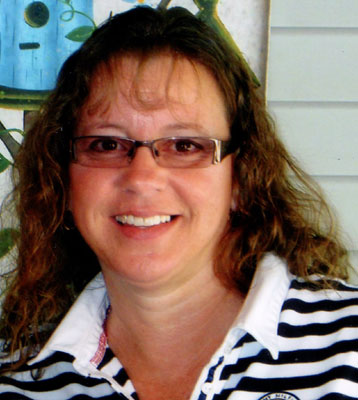 KAREN REDDINGER CRUZ
ST. PETERSBURG, FLA. – Karen Reddinger Cruz, 46, passed away Oct. 12, 2012, at Northside Hospital in St. Petersburg.
Karen was born Aug. 25, 1966, in Youngstown, the daughter of Richard and Gail (Bundy) Reddinger. 
Karen was a graduate of Liberty High School and attended Kent State University. Karen was a member of the Church Hill United Methodist Church in Liberty Township.  She was a dedicated manager for Riverstone Residential Group at Bay Isle Key Apartments.
Karen was an amazing women, mother, daughter, sister and friend. Anyone who had the pleasure of knowing Karen knows how talented, inspiring, intelligent and compassionate she was each and every day. Her beautiful children, Josh and Amanda, were the light of her life. They were everything to Karen, and everything she did in life was done with their best interest in mind.
Besides her children, she leaves her parents, Richard Reddinger of The Villages, Fla. and Gail Bundy Reddinger of St. Petersburg; her brothers, Brian and David Reddinger of Girard; her nephews, Jacob and Michael (Danielle Regula) Reddinger and their daughter, Aubree of Girard; and many aunts, uncles and cousins.
Karen's family will receive family and friends on Thursday, Oct. 18, 2012, from 3 to 6 p.m. in the evening at the Churchill United Methodist Church, where there will be a funeral service following the calling hours.
In lieu of flowers, the family request that contributions be made to the Karen Cruz Memorial Fund at http://gofundme.com/1c3his.
Guestbook Entries
"I loved my mom"
» Joshua Cruz on May 24, 2016
my mom
"I loved my mom, thank u all"
» Joshua Cruz on May 24, 2016
"My sincere condolences to Karen's family and children. Karen was such a funny, caring light in this world, and we will all miss her immensely. "
» Angela Sesser on October 17, 2012
"my prayers go out to karen's mom, dad and brothers. you were a good friend and neighbor karen. may the angels watch over you."
» dawn davison on October 17, 2012
"Gail & Richard..we were so saddened to hear of the loss of your beautiful daughter, Karen. Know that our thoughts and prayers are with you and your family. "
» Eileen Schultz on October 17, 2012
"Dick,Gail,family and Children of Karen, May you find Peace in this difficult time, my prayers are with you Diane"
» Diane Price on October 17, 2012
"Karen thank you for letting all of us that knew you get to know you. You will be sadly missed by all of your family and friends. Thank you for the life that you have shared with all of us. "
» Rick Macali on October 17, 2012
"Prayer's And Condolence's To All Of Karen's Family...!!! She Was A Precious Soul "
» Ken Huffman on October 17, 2012
Regional Trainer-Riverstone Residential
"Karen's integrity and honesty were apparent in everything she did. Her infectious smile and warmth will long be remembered by me and all who had the pleasure of working with her and knowing her. Rest in peace my sweet friend."
» Joy Beaumont on October 17, 2012
"Gail and family, I am so sorry for your loss. My prayers are with you."
» Debbie Houk on October 20, 2012
Sign the Guestbook
---