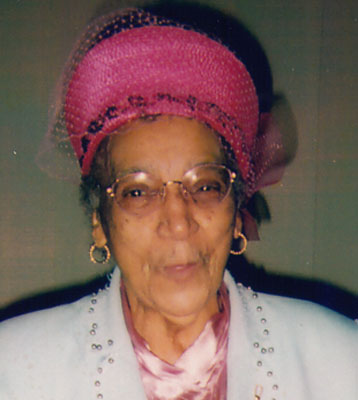 ELIZABETH BRANCH
YOUNGSTOWN – Funeral services will be at 10 a.m. Saturday at the Potter's House, 2420 Glenwood Ave. in Youngstown, for Mrs. Elizabeth Branch, 92, who departed this life Sunday, Sept. 30, 2012, at St. Elizabeth Health Center.
Mrs. Branch was born Nov. 12, 1919, in Selma, N.C., a daughter of Ernest and Maggie Adkins Pierce.
She was a homemaker and mother of the church.
Her husband, Preston Branch, whom she married in 1938, died in 1984.
She leaves her children, Clara E. Scott, Johnny P. (Linda) Branch II, Lee V. Branch and Priscilla A. (Layton) Shepherd, all of Youngstown; a sister, Lessie Johnson of Fayetteville, N.C.; 11 grandchildren; 29 great-grandchildren; and six great-great-grandchildren.
She was preceded in death by her parents; a daughter, Emma Branch; two grandchildren, Tuwan Scott and Tamara Branch; and a great-grandson, Jiyen Dent II.
Viewing will be from 2 to 6 p.m. Friday at the F.D. Mason Memorial Funeral Home.
Guestbook Entries
"Prayers from my famiy!!! "
» Peaches Thomas on October 3, 2012
Niece
" You are a living tribute to your mom. Through you, her kindness will shine bright each day… Through you, her spirit will continue to inspire goodness in the world… You are a living tribute to her life… Through you, her love will always live on. "
» Nora Lennon on October 4, 2012
"God bless the family Elizabeth Eddy and family"
» bobbyraypearce in laws on October 6, 2012
"May God continue to bless everyone. Remember that He is the author and finisher of our life. Continue to depend on Him. Love to all, Bobby Ray and Annette Pearce"
» Bobby Ray and Annette Pearce on October 6, 2012
Sign the Guestbook
---