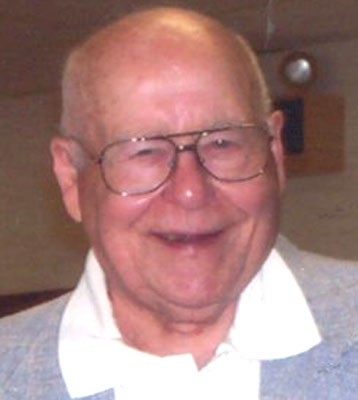 VICTOR S. HARGREAVES
WELLSVILLE – Victor S. Hargreaves, 89, died on Thursday, Nov. 22, 2012, at St. Mary's Alzheimer Center in Columbiana, following a lengthy illness.
He was born in East Liverpool, on Dec. 30, 1922, and was a son of the late Earl S. and Maude (Bownsword) Hargreaves.
Living his entire life in this area, he worked as a steel pourer at the former Crucible Steel Mill before his retirement in 1981 after 41 years. Mr. Hargreaves was a veteran of the U.S. Navy, serving on the USS Natch during World War II.
Victor loved to hunt and golf. He was a devoted fan of the Cleveland Browns and the New York Yankees. Most of all, he loved any excuse to be with his family.
His wife, Delores M. (Smith) Hargreaves, whom he married on July 25, 1941, survives him at home.
Also surviving him are two sons, Robert Leroy Hargreaves of Hanoverton and Michael Allen Hargreaves and his wife, Vicky of Vienna, as well as two grandchildren, Renee Myers and her husband, Steve, of Hanoverton and Ryan Hargreaves and his wife, Katya, of Lisbon.
Besides his parents, he was preceded in death by his daughter, Peggy Hargreaves; a son, Victor "Skip" Hargreaves Jr.; one granddaughter, Jennifer Hargreaves; one great-grandson, Ryan M. Hargreaves Jr.; two brothers, Roy Hargreaves and Edwin Hargreaves; and four sisters, Marcella Brooks, Ruth Deem, Pearl Mason, and Alice Burbick.
Services will be held at the Calcutta Chapel of the Martin MacLean Altmeyer Funeral Homes on Monday, Nov. 26, 2012, at 11 a.m. with the Rev. Dale Sutton of the First United Methodist Church officiating.
Burial will be at United Presbyterian Cemetery in Calcutta with the Tri-State Burial Group conducting Military honors.
The family will be present to receive friends at the funeral home in Calcutta on Sunday from 2 to 4 p.m. and 6 to 8 p.m.
Family and friends may visit www.altmeyer.com to view this obituary or send condolences online.
Guestbook Entries
« Be the first to sign VICTOR S. HARGREAVES guestbook.
---