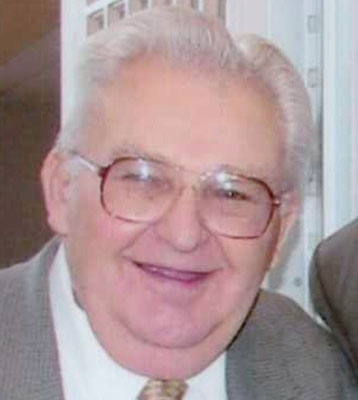 NICK HULEA SR
POLAND – Nick Hulea Sr., 86, passed away on Nov. 21, 2012, at the Cleveland Clinic.
He was born April 1, 1926, in Youngstown to John and Mary (Sasu) Hulea.
He graduated from East High School and served in the U.S. Army during World War II, where he received a Good Conduct Medal, Army Occupation Medal, World War II Victory Ribbon and European African Middle Eastern Theater Ribbon.
Upon return he received his associates degree from the then Youngstown College, and played two years of football while attending school. Nick retired after working 40 years in the engineering department at E.J DeBartolo Corp.
He loved football and was one of the coaches for the Poland Little Bulldogs for 14 years. Nick enjoyed his time he spent in the summer at Berlin Lake with his wife, Pauline, and their family and friends.
He leaves his wife, Pauline of 61 years; children Diane of Wyalusing, Pa., Nick Jr. (Nancy) of Canfield and Paul (Raedine) of Poland; and sister Mary Ferenchik.
Many called him Grandpa with his countless stories of the outstanding life that he led. They included Nick Hulea III, Brian Hulea (Erin), Sarah Hulea, Kelsey Hulea, Gannon Hulea, Erin Marie Petlock, Jason Kennedy (Jessie), and Jane Kennedy. Great-grandchildren included Clayton and Parker Petlock, Gabrielle and Jason Kennedy Jr., William and Abbey Hulea, Kyla and Evelyn Pauline Bruson.
He will be sadly missed by his large family and his loving wife.
Friends will be received at the Vaschak-Kirila Funeral Home, 3100 Canfield Road in Youngstown, on Sunday, Nov. 25, from 1 to 4 p.m. and on Monday from 11 to 11:30 a.m. at the Holy Trinity Romanian Orthodox Church. Services will follow at 11:30 a.m.
Nick was a member of the Holy Trinity Orthodox Church on Wick Avenue.
In lieu of flowers, please make donations in Nick's name to the Holy Trinity Church, 626 Wick Ave., Youngstown, OH 44502.
Please visit www.vaschak-kirilafh.com to view this obituary or to send condolences to the family.
Guestbook Entries
ms
"raedine..paul so sorry to read about the loss of your father. my thoughts go out to you and all of your family. regards, terry"
» Terry Yarian on November 24, 2012
"Our thoughts and prayers are with your whole Family"
» Louise & Dan Clayton & Family on November 24, 2012
Sign the Guestbook
---