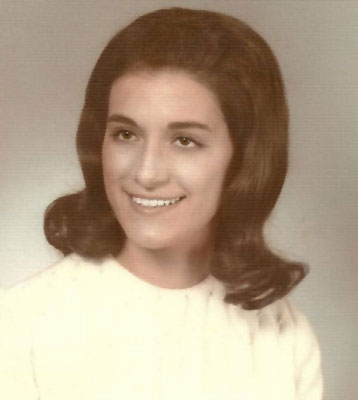 MARILYN LOUISE ANZELMO
CHILLICOTHE – There will be a 9 a.m. funeral service on Tuesday, Nov. 27, 2012, at the Rossi Brothers & Lellio Funeral Home, followed by a 10 a.m. Mass of Christian Burial at St. Dominic Church in Youngstown, for Marilyn Louise Anzelmo, 65, who died on Monday, Nov. 19, 2012, at the Adena Medical Center in Chillicothe, with her family by her side.
Marilyn was born on July 29, 1947, in Youngstown. She was the daughter of the late Andrew and Nancy (Cannatti) Simione.
She graduated from Cardinal Mooney High School and attended Youngstown State University.
She and her husband, James Vito Anzelmo, were married on June 13, 1970.
She was a sacristan at St. Peter Church in Chillicothe, where she was a member since 1978. She also volunteered for the children's nursery at her church.
Marilyn will be fondly remembered as a devoted wife, mother and grandmother, who always put her family first, and, she was generous in providing financial support for the poor and sick.
Along with her husband, she leaves four children, James Andrew (Kelly) of Gahanna, Mary Ellen (Jon Majkut) of North Ridgeville, John Vito of Chillicothe, and Andrew Anthony of Chillicothe; a sister, Carol Ferrier of Fairfax Station, Va.; a brother and sister-in-law, Francis and Gloria Anzelmo of East Palestine; two grandchildren, Gabriella and Lucia Anzelmo; and eight nieces and nephews.
She was preceded in death by her parents; her father and mother-in-law, Anthony and Josephine Anzelmo; her nephew, Anthony Anzelmo; her brother-in-law, Michael Ferrier; and a grandchild, Benedict T. Anzelmo.
Friends and family may call from 4 to 8 p.m. on Monday, Nov. 26, 2012, at the Rossi Brothers & Lellio Funeral Home, 4442 South Ave. in Youngstown.
Burial will be at Green Haven Memorial Gardens in Canfield.
Memorial donations may be made to St. Peter Church, 126 Church St., Chillicothe, OH 45601.
Family and friends may visit the Book of Memories at www.rossifunerals.com to view this tribute and send condolences to Marilyn's family.
Guestbook Entries
friend schoolmate
"My sincere sympathy to your family.I remember growing up on Marmion Ave-St. Dominic"s & Mooney. Our parents car pooled before there. were school buses. We played ball in the street & had so much fun. I'm sure your family will cherish all their memories they've made . Kathy "
» Kathy Wilush Crowley on November 24, 2012
Sign the Guestbook
---