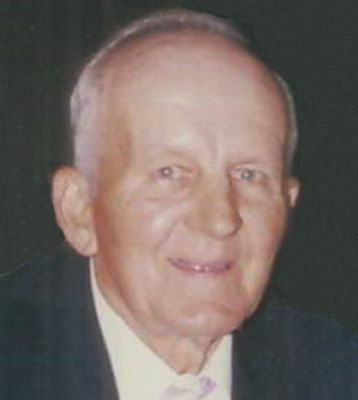 JOHN MICHAEL BAYUS JR
YOUNGSTOWN – John Michael Bayus Jr., 84, died Tuesday, Nov. 20, 2012, at St. Elizabeth Boardman Health Center.
Mr. Bayus was born Jan. 2, 1928, in Pittsburgh, a son of John and Mary Roman Bayus.
He worked as a brick layer and was a member of Local Union No. 8. He also enjoyed fishing.
His wife, the former Harriet Palusak, died in 1988.
He is survived by one son, John Bayus; one daughter, Joan Hurajat; one sister, Helen McGarry of Youngstown; one grandson, Nathan; nieces, D.J. "Donna Jean" Depp of Canfield, Sandy (Pat) Chrystal of Youngstown, Patty (Ken) Crago of Canfield, Terry Soroka of Canfield, and Stephanie (Gary) Kovach of Canfield; a nephew, William (Joy Shimek) McGarry of Canfield; three great-nieces, Shawn (Mark Griffith) Chrystal of Youngstown, Amanda Crago of Canfield, and Jeneane (Brent) Hugus of Canfield; one great-great-niece, Mackenzie Chrystal; a great-great-nephew, Keighan Griffith; and best friends and guardian angels, Diane Pifer and Kathleen Saladino.
Besides his parents and wife, he was preceded in death by one sister, Margaret Soroka; his companion of 19 years, Nettie Kucheruk; two brothers-in-law, John McGarry and Steve Soroka; one grandson, Andrew; a nephew, Richard Depp; a great-nephew, Patrick Chrystal II; and a great-great-niece, Ryleigh Griffith.
Services will be held Sunday at 3 p.m. at the Cunningham-Becker Funeral Home, Poland Chapel.
Friends will be received Sunday from 1 to 2:45 p.m. at the funeral home.
Visit www.beckerobits.com to send condolences.
Guestbook Entries
Father
"condolences from our family and from the N. Belle Vista Avenue neighborhood."
» John Harvey and family on November 30, 2012
Sign the Guestbook
---