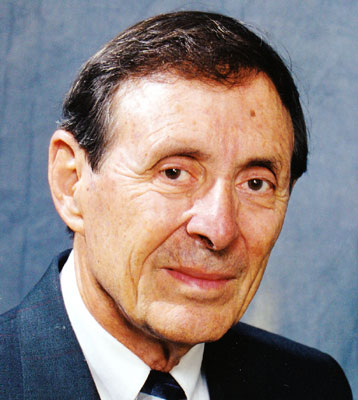 HERMAN CARL CARANO
POLAND – A prayer service will begin at 9:15 a.m. on Monday at the Higgins-Reardon Funeral Homes, Poland Chapel and a Mass of Christian Burial at 10 a.m. at St. Paul the Apostle Catholic Church in New Middletown, for Mr. Herman Carl Carano, 87, who died Wednesday evening at Hampton Woods.
He was born on Nov. 4, 1925, to Carl and Madeline Carano (Richuitti).
He graduated from Campbell Memorial High School
There wasn't a hobby he wouldn't take on except cooking, and even less, he wouldn't succeed at. Aside from being an avid golfer, swimmer, and biker, "Poppy" was an amazing woodworker, a determined tailor, an adventurous pilot, and also honed the skills of stained glass, and tennis, to name a few. These hobbies were combined with an amazing number of academic accolades as well.
During World War II, he enlisted in the Navy. He used the GI Bill to attend Youngstown State University and Kent State before transferring to Ohio State University for three years of Pharmacy School, graduating cum laude in 1952, as a proud member of Rho Chi and as a Phi Delta Chi Scholarship Award recipient. He worked as a pharmacist from Gray Drugs for several years until he and his uncle pulled together family money and founded the Village Pharmacy in New Middletown. There he tended to the health needs of the community for the next 55 years.
He was a charter member of the Lions Club and later attended Mahoning County Vocational School, where he participated in various computer courses. His insatiable hunger for knowledge caused him to take VHS chemistry courses this year!
The life he shared with his wife, Betty Jane Carano, was full of enough love and learning (and of course, laughter) for many lifetimes. Beginning at the age of 15, the two took on adventures hand in hand. He taught her golf, she surpassed him. She taught him tennis, and then he beat her. Their desire to learn with one another kept the high school sweethearts happily married for 64 years, resulting in a family so full of love and happiness, they knew they had won.
The many memories cherished by his children and "cookerbaums" are reflected on fondly and his unbelievable kindness and generosity will remain unforgotten by those lives he so consistently touched.
He is admired, missed, and remembered by his wife, Betty Jane; two children, Lorraine (Brad) James and Richard (Stephanie) Carano; his seven "cookerbaums," Elissa, Corey and Tyler James, K.C. and Michael Kerrigan, Carly, and Cara Carano. He also leaves his sisters, Evelyn Nelson and Marilyn (Bill) McKnight; brother, Ed (Joanne) Carano; as well as many, many nieces, nephews and friends.
"His 'silent jiggle' laugh echoes in our hearts, and his passion for life, learning, and love for his family and friends will never pale in our memories."
Friends may call Sunday from noon to 4 p.m. at the funeral home.
In lieu of flowers, the family asks for donations to Rich Center for Autism, 1 University Plaza, Youngstown, OH 44555, or the Special Olympics Ohio, 3303 Winchester Pike Columbus, OH 43232.
Visit www.higgins-reardon.com to view this obituary and to send condolences.
Guestbook Entries
"With greatest sympathy for the recent passing of an incredible man, father and grandfather. May your memories give you piece in this difficult time! Much love, The Price Family"
» Janice & Jeff Price Family on November 24, 2012
slhs 1971 graduate
"I'm sorry to hear about your father, You probably don't remember me but we graduated together and we shared a monkey bar for being the tallest and the shortest of our senior class 1971. carol costello "
» carol costello/damore on November 24, 2012
"Betts, Lori, Rick, and Family, We are very saddened to hear of Herman's passing. He was truly an incredible man. A mentor, friend and to me, a father figure. We send our deepest condolences for your loss. Jim and Debra and family."
» Jim Mahoney and Debra Grove-Mahoney on November 24, 2012
"Betty, Rick, & Lorrie. My thoughts and prayers are with all of you at this sorrowful time. I have nothing but good memories of Herman. Hold your great memories close, they will carry you through this sad time."
» Cathy McCambridge Stumpf on November 24, 2012
"We are very sorry to hear about your Dad. He was a very Caring and Loving Man. He made a great impression on me as a boss. He will be sadly missed. May God Bless"
» Chuck and Jody Hostetter on November 24, 2012
"Rick and Lorrie and your families: I know that you do not know me very well and I am sorry for that. However, I got to know your Father a little and I truly love your Mother. I am so sorry for your loss. Please accept my sympathy and please take care of your Mom, as I'm sure you will. I am sorry that I could not be with the family at this time. Love, Aunt Sandie (and Uncle Ron)"
» Sandie and Ron Lipkovich on November 24, 2012
"I am so sorry, my Sister, for your loss. I know that you and Herman had a 'full' lifetime together of memories to cherish. I am sorry that I cannot be with you at this time to hold you and comfort you. I wish I could. Your have my love and my blessings. Your Sister, Sandie"
» Sandie and Ron Lipkovich on November 24, 2012
"I enjoyed the short time I had with Herman at the pool or short visits as he walked on the street. We will miss him also. Your neighbor. "
» Richard Wolfgang on November 25, 2012
"Hello Rick & Betty Jane - My thoughts & prayers are with you & your family. I have many fond memories of working at the Village Pharmacy more than 30 years ago. Herman was always so full of life and wisdom that he loved to share. I am thankful that our paths crossed. God bless you all. Karen Hammer-Hertlein and Family"
» Karen Hammer-Hertlein on November 27, 2012
"BJ-I was out of town (Cincy) when Anna called me. I so enjoyed Herman and loved our long talks on the porch. I will miss him very much. "
» Ginny Williams on November 28, 2012
Sign the Guestbook
---