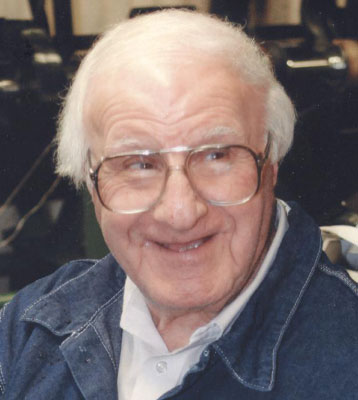 EDWARD F. PALESTRO SR
HUBBARD – Edward F. Palestro Sr., 83, died Thursday evening, Nov. 22, 2012, at Sharon Regional Health System.
He was born April 6, 1929, in Hubbard, a son of Frank R. and Teresa Carr Palestro, and was a lifelong area resident.
Mr. Palestro was a 1946 graduate of Hubbard High School and served with the U.S. Marines during World War II. Ed was a member of St. Patrick Church, where he served as an Usher and ran the beer tent and the black jack booth during the festival.
He was a salesman for Strouss Department Store for 16 years, then worked for Federal Wholesale for 24 years. Ed later co-owned Frank's Shoe Repair in Hubbard, which his father opened in 1942.
Ed was a proud public servant for the City of Hubbard, having served as 4th Ward Councilman for a total of 26 years and six years as the Service Director. He truly loved the City of Hubbard and everyone that lived here.
His wife, the former Dorothy A. Furlong, whom he married July 28, 1950, died Oct. 20, 2002.
He leaves a son, Edward F. (Linda) Palestro Jr. of Hubbard; a daughter, Tess Possert of Hubbard; a sister, Ann Reynolds of Hubbard; four grandsons, Anthony, Eddie, Frank, and James Palestro; a granddaughter, Megan Couturiaux; a great-grandson, Aiden; three nephews; and one niece.
Ed was preceded in death by his parents; and a stepson, Fred Sammartino.
Family and friends may call on Sunday from 6 to 8 p.m. at the Kelley-Robb-Cummins Funeral Home.
Funeral services will be held Monday 1:30 p.m. at the Kelley-Robb-Cummins Funeral Home and 2 p.m. at St. Patrick Church, Hubbard.
Memorial donations may be made to the American Diabetes Association, 1701 North Beauregard St., Alexandria, VA 22311.
Interment will take place at Hubbard Union Cemetery.
Please visit www.krcummins.com to view this obituary and to send condolences to the family.
Guestbook Entries
"I am very sorry to hear of your Father's passing. He was truly a good man and will be missed."
» Patti DelBane Smith on November 24, 2012
"I'm sorry about your families loss, he was a great man and will truly be missed."
» Andrew Wess on November 24, 2012
"I am saddened with the death of your father. "Eddie" was a great and loyal friend. We shared many laughs and memories together. I will miss him."
» Vince Pompili on November 25, 2012
"I am very sorry to hear of Ed's passing. I worked with him at Federal for many years. He was a wonderful guy and well respected. My condolences to your family."
» Sue Terlesky Verostko on November 26, 2012
Sign the Guestbook
---