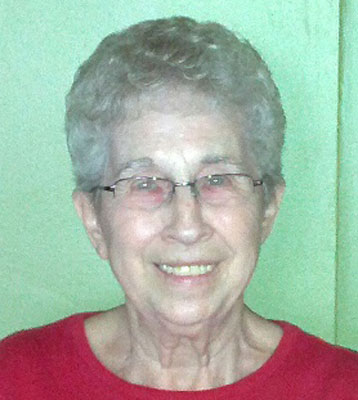 ANN L. MILLER
POLAND - Ann L. Miller, 76, died Nov. 21, 2012, at St. Elizabeth Health Center.
Mrs. Miller was born Dec. 15, 1935, in Youngstown, a daughter of Joseph and Caroline Brozic Zitnik.
She was a 1953 Ursuline High School graduate and she was a medical secretary for many years, retiring in November of 2000. She was a member of St. Luke Catholic Church.
Ann was a swimmer at the Ursuline Mother House and loved to sew. She also loved following her grandchildren in their sport activities.
She is survived by two daughters, Caroline (John) Fanta of Poland, with whom she made her home and Cynthia (Bob) Babnic of Boardman; a brother, Joseph (Linda) Zitnik of Wesley Chapel, Fla.; and three grandchildren, Jonathan Fanta of Boardman, Becca Babnic of Boardman and Jason Babnic of Boardman.
She was preceded in death by her husband, Paul, whom she married in 1957, and died on Dec. 11, 1995, and also her parents.
A prayer service will be held Monday at 9:15 a.m. at the Davidson-Becker Funeral Home in Struthers, followed by Mass of Christian Burial at St. Luke Catholic Church at 10 a.m. Interment will follow at Calvary Cemetery.
Friends will be received Sunday from 5 to 7 p.m. at the funeral home.
The family would like to thank the staff at St. Elizabeth NICU for their excellent care.
Visit www.beckerobits.com to send condolences.
Guestbook Entries
Aquatic Director/AustinWoods
"It is with great sorrow that I extend my sincerest sympathy. Ann attended my aquatic classes for many years and what a delight she was to have in the class. She had become more than just a participant through the years, she was truly a good friend to myself and her many fellow participants. She always had that great smile for everyone that crossed her path. I think I speak for all her aquatic friends when I say she will be greatly missed by all of us that knew and loved her. May your many fond memories of her bring you peace and comfort. "
» Cathy Crawford on November 24, 2012
"Dear Carrie & Cindy and families, I was so very sorry to hear of the death of Ann. She was such a dear friend of my mother, and also her "traveling buddy" to Florida. She always looked forward to her trips to see Linda & Joe with Ann. She always said such pleasant things about Ann and how she was always so nice to travel with. I'm sure my mom & your mom are meeting up in Heaven now."
» Evelyn (Matyi) Munsey on November 25, 2012
"Cindy and Bob sorry for Your loss. Prayers for Your Family at this difficult time. Your fellow Mooney 82 alumni"
» Mary (Courtney) Laycock on November 26, 2012
Sign the Guestbook
---