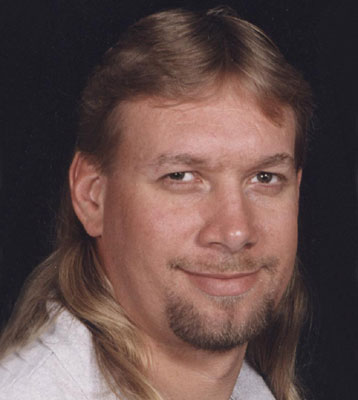 WILLIAM B. 'SMILEY' CRAWFORD JR
HUBBARD – Funeral services will be held Tuesday at noon at the Chestnut Ridge Church of God with Pastor Rob McFarland officiating for William B. "Smiley" Crawford Jr., 44, who died Nov. 15, 2012, at St. Elizabeth Health Center.
He was born Sept. 14, 1968, in Jamestown, N.Y., a son of William B. and Joyce P. Terry Crawford Sr., and had lived in Hubbard for 33 years, coming from Pennsylvania.
Smiley worked for Shawn's Truck and Trailer in Youngstown and had previously worked for Kelley Tree Service for 13 years. He was a 1987 graduate of Hubbard High School, having been a wrestler and played soccer. He was a member of the Chestnut Ridge Church of God, having worked in the sound booth at the church. He enjoyed playing pool and was on several pool leagues and was an avid Buffalo Bills football fan.
He leaves his parents, William and Joyce of Hubbard; a son, Billy Crawford III of Pittsburgh; four daughters, Amber (Lenny) Shafer of Masury, Bridgett Crawford Britten of Struthers, Nina Crawford Britten of Struthers and Alauna Crawford of Sharon, Pa.; two brothers, Mike Crawford of Masury and Chris (Keri) Crawford of Knoxville, Tenn.; two sisters, Tammie Crawford of Youngstown and Cindy Crawford of Greenville, Pa.; and four grandchildren. He also leaves numerous aunts, uncles, cousins and nieces and nephews.
He was preceded in death by his grandparents and a granddaughter.
Family and friends may call on Monday from 4 to 7 p.m. and also on Tuesday, one hour prior to the services from 11 a.m. to noon at the Chestnut Ridge Church of God.
The family requests that donations be made to the William Crawford Memorial Fund at any branch of 717 Credit Union to help defray funeral expenses.
Arrangements by the Kelley-Robb-Cummins Funeral Home.
Visit www.krcummins.com to view this obituary and to send condolences to the family.
Guestbook Entries
Friend
"bill was a great guy ive known him since i was 11 he will b greatly missed !! luv u bill may u rest in peace !!!"
» Laurie Gandy on November 17, 2012
Mr.
"My condolences and prayers to the Crawford family and William's children. William was a great guy and fellow classmate of HHS class of 1987. Rest in peace. "
» Eric Ginn on November 17, 2012
Friend
"You will be sadly missed Billy. I remember the times you stopped and talked to Rocky and me. We had some good laughs. May God be with your family and friends to help them through this rough time. Rest in peace Billy"
» Vesta Putnam on November 17, 2012
rip my friend
"thnx for all the talks bill"
» denise stubrich on November 19, 2012
william b smilely crawford jr
"I have known you for 30 years+ i can't even believe your gone. U will be missed by so many. May u rest in peace. Love ya!"
» wendy wilson on November 18, 2012
"Missed & loved we had a lot of Shopping -I'll never stop looking for your bright smile every time i walk in a store -I was trying to remeber when or how we met and I can't you were just awlays there - Walk with the Angels -"
» Shari on November 19, 2012
"Billy, i can't believe you are gone. My thoughts and prayers go out to your family and children. thank you for all the talks and laughs you gave me. i will never forgot you. RIP billy love forever. "
» Jeni on November 19, 2012
Sign the Guestbook
---