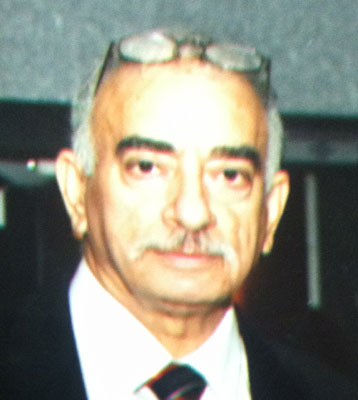 SAM CERCONE
STRUTHERS – Prayers will be held Monday at 12:15 p.m. at the Higgins-Reardon Funeral Homes, Poland Chapel, followed by a Mass of Christian Burial at 1 p.m. at St. Nicholas Church (Christ Our Savior), for Sam Cercone, 63, who passed away Friday morning with family by his side.
Sam was born Oct. 9, 1949, in Pacentro, L'Aquila, Italy, a son of the late Alberto and Angiolina (Colarossi) Cercone.
He graduated from Struthers High School in 1968 and was part of the 1967 undefeated Struthers Wildcats Football team.
Sam worked as a supervisor at GM Lordstown for over 40 years. He loved being at work and considered GM his second home.
He was a member of the Pacentro Club, his high school's Reunion Committee and was a Mason.
Sam spent many years coaching mushball, softball and basketball. He was also a Boy Scout leader for his son. Sam enjoyed collecting coins, gardening, working with wood and landscaping. This year, he was finally able to enjoy "his rock." Most of all, he enjoyed spending time with his family while in his recliner. Sam's greatest love was his grandson and doing the "Hot Dog Dance" with him.
Sam is survived by his wife, Doreen Stewart of 38 years; two daughters, Catherine A. (fiance Brad Miller Sr.) Cercone and Teri (Brandon) Mundy, both of Struthers; a son, Mark C. (Amber) of Columbus; a brother, Dominic (Audrey) of Austintown; a sister, Diane (Frank) Rubino of Poland; a grandson and the light of his life, Bradley D. Miller Jr.; and many nieces and nephews.
Family and friends may call Sunday from 3 to 8 p.m. at the funeral home and Monday from 11 to 12:15 p.m.
Burial will take place at St. John's Cemetery.
Guestbook Entries
"To the family, and especially Dominic, I express my sorrow for your loss. (Toolmaker from GM)"
» Ed Valley on November 17, 2012
" Sam, you good to work with. R.I.P. Prayers to your family...."
» Jim Devlin on November 17, 2012
"You always brought a smile to my face...I'll miss you my friend."
» Linda on November 17, 2012
"Sam and family, So sorry to hear of your lose. My prayers will be said for you and his family. Marcia Thomas "
» Marcia Thomas on November 17, 2012
"Rip Boss , one of the best"
» Joe V on November 17, 2012
"Sorry of your loss.Our thougths & prayers are with the entire family."
» Juliana Rubino Johnson on November 18, 2012
"Great sense of humor, you will be missed!"
» Marie on November 18, 2012
"Doreen, my prayers are with you through this diffuclt time. May God Bless your Family."
» Larry Bien on November 18, 2012
"Sam, you were always my favorite to work for. Always a smile and a laugh. You will be missed. My condolences to the family for your loss."
» Larry W on November 18, 2012
"Sam was the first supervisor I had the opportunity of working with. He was a very energetic and passionate person. It was a pleasure to have known him. "
» Tad Gray on November 19, 2012
"Belated condolence to the Cercone family sorry for not knowing about Sams Death was browsing the internet to find out about my own family members in America my uncle was Franco Cercone who died a long time ago age 60 I have four cousins don't know anything about them. If you have any information please let me know. From your Cousin Rita Mancini Dametto and family Griffith Nsw Australia email adrita@bigpond.com.au"
» RITA MANCINI DAMETTO on December 4, 2014
Sign the Guestbook
---