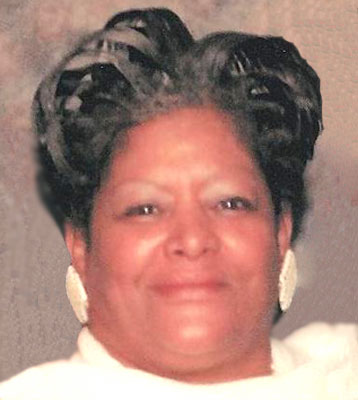 KAREN YVONNE 'KAY' ALLISON
YOUNGSTOWN – A homegoing celebration for Mrs. Karen Yvonne "Kay" Allison will be held Monday at noon at the Gospel Temple Baptist Church. Mrs. Allison departed this life Sunday, Nov. 11, 2012, at her residence.
Mrs. Allison was born April 21, 1958, in Youngstown, a daughter of Otis Herron and Wanda Bufford.
She attended East High School. She was an independent provider for the State of Ohio and HHA for Comfort Keepers. She was a faithful member of the Gospel Temple Baptist Church in Campbell and she enjoyed spending time with her family and friends. She also enjoyed cooking, shopping and line dancing.
She leaves to cherish her memory, her loving husband, Herbert "Biff" Allison, whom she married July 11, 2005; her grandmother, Esther Smith; stepmother, Bessie L. Herron; her children, Latausha Teague, William Teague and his fiancé, Crystal Wright, Autumn and her husband, Howard Judge and Emmett "Frank" Conner Sr., all of Youngstown; her stepchildren, Herbert and his wife, Angelic Shelton and Chezare and his wife, Tiona Allison, all of Youngstown, Alysia and her husband, Michael Allison-Jordan of Columbus, Alexis, Amber, Isaiah and Austin Allison, all of Youngstown; her sisters, Gwendolyn Smith, Alice and her husband, Douglas Jones, Patricia and her husband, Curtis Daye, Diane and her husband, Ronald Campbell and Deborah Herron, all of Youngstown; her brothers, Rodney Perry, Kevin Herron, Mannie and his wife, Patricia Collins, Salis Collins, Ronald and his wife, Sharon Collins and Michael Collins, all of Youngstown; 19 grandchildren; one great-grandchild, `Eva Galbreath; an expecting one great-granddaughter, Eriel Conner; and a host of nieces, nephews and dear friends.
She was preceded in death by both her parents; a sister, Sherry Collins; an aunt, Olivia Hubbard; and Ms. Bessie Collins, who helped raise her.
Friends may call Monday, one hour prior to services at the church.
Please visit jewashingtonfuneralservices.com to leave condolences or to sign the online guestbook.
Guestbook Entries
""Rest In Peace Kay ""
» clarence Ross on November 17, 2012
""My deepest sympathy to the family of kay" linda"
» Linda Toney on November 19, 2012
Friend
"May God bess you and family thru these trying times. you have my deepest sympthy!"
» Mike Harvey on November 17, 2012
""Thinking of you in your time of sorrow and extending our heartfelt sympathy,Kay will be deeply missed!"
» Ted & Sandy Ratliff on November 17, 2012
Akron,Ohio
"To the family may God bless and your family. "
» Barbara Moore on November 17, 2012
"You will be sadly missed my sister. We shared many good times together. Rest in Peace and my love & condolences to the family. Allow God to comfort you during this time. God Bless You."
» Shauneille Gardner on November 17, 2012
"Karen we will truly miss you,your spirit and all the laughs! We love u! Walden & Jones Family"
» Yvette on November 17, 2012
"Tausha, Mr. & Autumn may God comfort you with his love and surround you with his peace. Sending my love & praying for you all, love Wannie"
» Tawanda Smith on November 17, 2012
"May God give you the strength to carry on."
» sonya on November 17, 2012
"Sending my condolences to your family...May God Bless&Give you all strength during this difficult time. "
» KESHA REESE on November 18, 2012
" My deepest sympthy!"to the family"
» linda salter on November 18, 2012
" My deepest sympthy!"to the family "
» linda salter on November 18, 2012
"May God keep you all in his warm & loving embrace in your time of sorrow...My prayers to all of you."
» Jennifer Miles on November 18, 2012
"sorry to hear about ur loss imgonna pray for the family this is a hard pill to swallow may god bless yall mrs karen will b missed amen"
» tomasina on November 19, 2012
"Ms.Kay you gave so much love to all who knew you. You will truly be missed. . . I pray that God gives your family strength during this time."
» Brina D on November 19, 2012
Mr
"you will be missed my friend"
» Turan Henderson Sr. on November 19, 2012
"I'm going to miss you Mama but I'll see you again."
» Tessie Harvey on November 19, 2012
"I am so sorry for your loss. I will keep the family lifted up in prayer. Praying that He sends you peace & comfort. And I pray that, even without understanding, we can trust GOD's wisdom and know that she is in a better place with HIM. "
» Swaisha Fields on November 19, 2012
Chaplain
"Biff,and family just know that you all are in my thoughts and my prayers during this difficult time. May God give you peace and comfort as only He can do."
» Rev. Gary Rozier on November 18, 2012
Chaplain
"Biff,and family just know that you all are in my thoughts and my prayers during this difficult time. May God give you peace and comfort as only He can do."
» Rev. Gary Rozier on November 18, 2012
"May God surround, support and comfort the family."
» Arelene Salter on November 19, 2012
"Tausha and family my prayers goes out to you in this time if need may god give you and your family strength love you guys.. r.i.p mama kay"
» The Galbreath Family on November 19, 2012
YOUR DEAR FRIEND
"I will cherish the times we have shared together, your friendship sister was one in a million. May God continue to be a comfort to all your loved one. Prayers, love, blessengs and comfort to the family. Miss you Karen."
» PAT REID on November 24, 2012
Sign the Guestbook
---