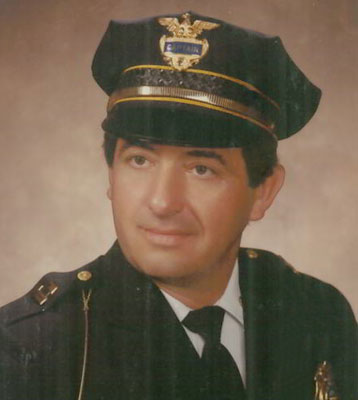 FRANK A. JORDAN SR
STRUTHERS – Frank A. Jordan Sr., 74, died Friday morning at his residence.
Frank was born June 17, 1938, in Youngstown, a son of Anthony and Lena Diana Jordan.
A 1956 graduate of East High School, Frank enlisted in the U.S. Army and served for two years. During that time, he married his high school sweetheart, the former Marian Cacivilano, on May 10, 1958.
Returning to Struthers after the service, Frank attended the Police Academy at Youngstown State University. He served the City of Struthers Police Department for 27 years, retiring as Captain on July 5, 1994. Frank also served as Bailiff for the Struthers Municipal Courts.
He was a member of the Christ Our Savior Parish at St. Nicholas Roman Catholic Church in Struthers, where he served for many years as a volunteer for the annual festival, working the cavatelli booth. Frank was a member of the Struthers Knights of Columbus, where he was twice awarded the Blue Knight.
Frank was a member of the Struthers Gridiron Club and the former Struthers Athletic Club and its golf league. An avid golfer, Frank golfed at least four times a week at various golf courses, and was designated "the booker" by his golf buddies.
An avid Notre Dame fan, Frank attended at least two games a year. He also loved the Cleveland Indians and college and high school football. His greatest love however was his family.
Frank leaves his wife of 54 years, Marian; four sons, Anthony (Jodi) Jordan of Elyria, Frank (Karyn) Jordan Jr. of Boardman, Nicholas (fiancée, Sharon Sheronovich) Jordan of Struthers, and James (Lisa) Jordan of Strongsville; one sister, Louise (Bill) Michalchick of Longwood, Fla.; one sister-in-law, JoAnn Pontuti of Boardman; and 12 grandchildren, Carly, Elyce, Anthony, Aaron, Noah, Dina, Sam, Jill, Katie, Nicholas, Jenna, and Vincent.
Besides his parents, Frank was preceded in death by his sister, Rosemarie (Joseph) Rainer; and brother-in-law, Donald Cacivilano.
A Mass of Christian Burial will be held Monday at 10 a.m. at the Christ Our Savior Parish at St. Nicholas Church with  Fr. Bernard Bonnot officiating.
Interment will follow at Lake Park Cemetery, Youngstown.
Friends will be received Sunday from 4 to 7 p.m. at the Davidson-Becker Funeral Home, Struthers, where a prayer service will be held Monday at 9:15 a.m.
Contributions may be made to the Juvenile Diabetes Association c/o 6100 Rockside Woods Blvd., Suite 445, Independence, OH 44131.
Guestbook Entries
"My deepest sympathy to Frank's family."
» Judy Martin Hamracek on November 17, 2012
Tanglewood Golf Course
"So sorry to hear of Frank's passing. I always enjoyed visiting with him when he came here to golf. What a nice man he was. Deepest sympathy to your family. "
» Jody Clingan on November 17, 2012
friend
"Memories of you be with me always as we entered the Army at Fort Knox together and as a fellow Police Officer. Eddie"
» Eddie Lightner on November 17, 2012
"Frank was a great guy, I knew him through police work, I was a Campbell Police Officer, you have my deepest sympathy"
» Dennis Puskarcik on November 17, 2012
Youngstown PD, Retired
"My condolences to Frank's family. Frank was a friend since elementary school. A good friend and great Police Officer, I am proud to call him a brother officer. May he rest in peace."
» Lou Conti on November 18, 2012
"My condolences and prayers for the whole Jordan family. So sorry to hear, what a great man."
» Tim Nelson on November 18, 2012
"We're so sorry that cousin Frankie passed away. You are loved and we are praying for you. "I AM the way, THE truth, and THE way, no man comes to the Father, but by me", John 14:6 "
» Mike, Janis, Tommy, and Joey Sinko on November 18, 2012
Sign the Guestbook
---