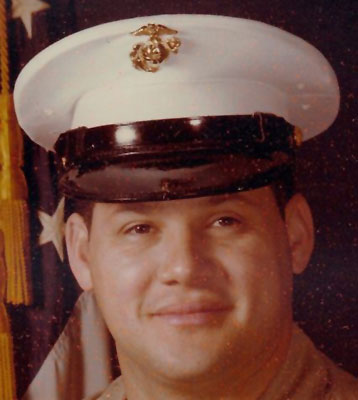 DAVID HERNANDEZ
CAMPBELL – Funeral services will be held Monday at 11 a.m. at the Wasko Funeral Home, with Father Michael Swierz officiating, for David Hernandez, 68, who passed away Wednesday morning at Vibra Hospital in Boardman.
David was born May 19, 1944, in San Bernardino, Calif., the son of Marciano and Paula Alarcon Hernandez.
David was a decorated Marine, serving three tours of duty in Vietnam. He was a machine gunner who was shot down three times during battle and earned three Purple Hearts for his extraordinary service to his country. He served as an Honor Guard for President Johnson. David retired from the Marine Corps after 25 years of service.
He leaves to cherish his memory, his wife, the former Linda Prochak, whom he married Sept. 13, 1976; his sons, David Adam (Tonya) of Dana Point, Calif. and Aaron of Campbell; a grandson, Alex of Dana Point; two brothers, Marciano (Hortencia) Hernandez of Youngstown and Freddie (Nora) Hernandez of Rialto, Calif.; sisters, Susan (Richard) Pina of San Bernardino, Julia (Richard) Rosales of Colton, Calif., Eleanor (Tony) Wapp of Riverside, Calif., Margaret Reyes of Rialto, and Rachel (John) Contreras of San Juan Capistrano, Calif.; his father-in-law, Edward Prochak of Youngstown; brothers-in-law, Ed (Joyce) Prochak of Twinsburg, Bob (Patty) Prochak of Campbell and Ron (Kristin) Prochak of Alliance; a sister-in-law, Elaine Prochak of Hilliard; and many nieces, nephews and great-nieces and great-nephews.
He was preceded in death by his parents.
The Hernandez family has entrusted their loved one to the care of the Wasko Funeral Home and will receive friends Sunday from 2 to 5 p.m.
Visit www.waskofamily.com to view this obituary and send the Hernandez family condolences.
Guestbook Entries
"Semper Fi Brother!! Dennis Sullivan Pawleys Island, SC"
» Dennis Sullivan on November 17, 2012
Heavens Angle
"Dave you were a great man and you knew how to make us laugh you will be sadly miss thank you for serving our country we love you and will miss you. R I P and may you be in the arms of Angels my friend."
» The Jones Family on November 18, 2012
Sign the Guestbook
---