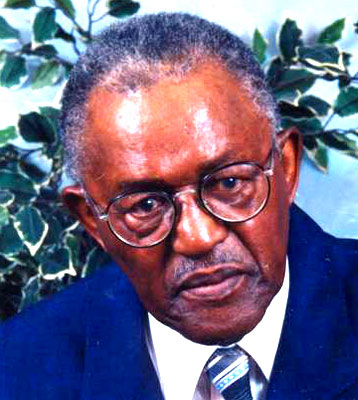 WILSON 'BILL' WOODS
YOUNGSTOWN – Services will be at 11 a.m. Friday, Nov. 16, at the L.E. Black, Phillips and Holden Funeral Home for Mr. Wilson "Bill" Woods, affectionately known as "Daddy Bill," who went home to be with the Lord on Nov. 9, 2012.
Mr. Woods was born March 18, 1919, in Jefferson County, Ala., a son of James and Ida Woods.
He had been employed by Youngstown Sheet and Tube as a Stopper Maker, retiring in 1980. He was a World War II Army veteran and was of the Baptist faith. He loved his family dearly and was an avid sports fan favoring the Rams and Dodgers.
He leaves to cherish his memory, his loving wife, the former Helen Graham, whom he married Sept. 10, 1960; two daughters, Ramona Kay (Warren) Parker Jr. and Vicki (Pastor Ernest) Ellis, both of Campbell; two sons, Derrick (Carla) Stredrick and Ernest Lee Fields of Youngstown; eight grandchildren; eight great-grandchildren, including Emerson Cottrell, whom he helped rear; four great-great-grandchildren; a host of nieces, nephews and godchildren he helped rear; and other relatives and friends.
He was preceded in death by his parents; a daughter, Launice Cottrell; a brother, Willie Giles; and a granddaughter, Ramona Cottrell.
Friends may call one hour prior to the services, from 10 to 11 a.m. at the funeral home.
Guestbook Entries
"To the family, may the Lord comfort all of you during this very trying time,I have several fond memories of Daddy Bill, He was and is a great man.Rest in Peace"
» Michael Rhodes on November 14, 2012
Niece
"By love, Uncle Bill is remembered and in memory he lives Love and Prayers to Aunt Helen and Family."
» (Charlotte) Charlene Fields Nunnery on November 15, 2012
""To the family, my thoughts and prayers are with you. May God comfort you. with my deepest sympathy Linda"
» Linda Toney on November 16, 2012
"THANK YOU FOR YOUR CONDOLENCES AND CONTINUED SUPPORT!"
» The Woods, Stredrick, Parker, Ellis Family on November 17, 2012
"To The Woods, Stredrick, Parker, Ellis Families. May God Bless you and keep you during your time of sorrow. I'm holding you all in my prayes and, expect God to send his comforter to you. God Bless you. The White Family "
» Jo-Ann White on November 28, 2012
Sign the Guestbook
---