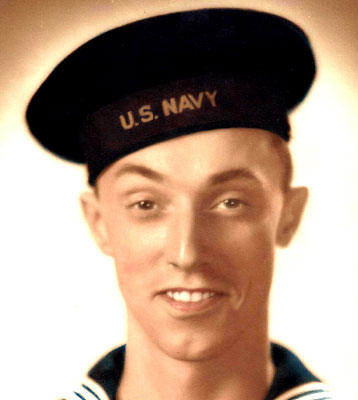 ROBERT PAUL 'PAPA' GERLACH
YOUNGSTOWN – Robert Paul "Papa" Gerlach, beloved husband, father, grandfather, great-grandfather and great-great-grandfather, died on Veterans Day, Nov. 11, 2012.
He served his country in the U.S. Navy on Leyte Island in the Philippines during World War II.
"Bob" was born Dec. 8, 1917, in New Philadelphia, to the late Paul C. and Lucille (Grimm) Gerlach.
He was an electrician for the IBEW Local Union No. 64 of Youngstown for 69 years.
Bob was an avid outdoorsman and car enthusiast. He and his wife, Ethel, traveled 48 states, leaving only Alaska and Hawaii not visited.
He is survived by his wife of 71 years, the former Ethel R. Forsyth, whom he married on June 14, 1941; a daughter, Diane G. (Nevin) Siefert of Struthers; granddaughters Tracey Parsons (Roger) Estep, of Toledo and Dana Parsons (Tony) Rich of Boston; a grandson, Nevin R. Siefert II of Spring Hill, Fla.; nine great-grandchildren; and three great-great-grandchildren.
Bob was preceded in death by his parents, Paul and Lucille; a sister, Jane (Warren) Garrard; and a brother, Paul Gerlach.
Funeral services will be held on Thursday, Nov. 15, 2012, at noon at the Thompson Funeral Home, 4221 Market St. in Boardman.
Family and friends may call from 11 a.m. to noon at the funeral home.
The family requests that material tributes take the form of contributions to the donor's charity of choice.
Please visit www.Thompsonfh1932.com to view this notice and send condolences.
Guestbook Entries
Sign the Guestbook
---