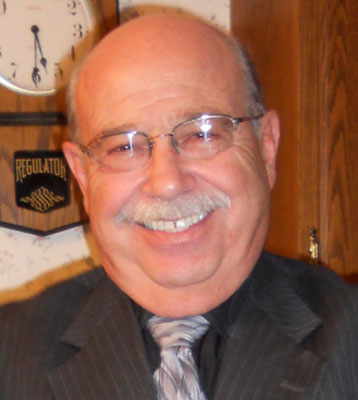 JOHN L. IANDIMARINO
AUSTINTOWN – A Mass of Christian Burial will be said on Friday, Nov. 16, 2012, at 10 a.m. at St. Anthony of Padua Church for John L. Iandimarino, 72, who died yesterday.
"Big John" was born Dec. 23, 1939, in Youngstown, a son of Mario and Esterina Monaco Iandimarino.
He graduated from The Rayen School in 1958 and attended Youngstown College. His career began with the Erie Railroad and transferred to Republic Steel Open Hearth. John was instrumental in the start-up of gas stations while he worked for the Humble Oil Company in Youngstown and Columbus. On Feb. 25, 1965, he opened The Dog House Restaurant and on May 15 of the same year, he married Joan LaBash. From 1969 to 1979 he was the manager of the Red Barn Restaurant and was also the supervisor of the Casey Restaurant. In 1980, he opened the Hermitage House Smorgasbord in Hermitage, Pa., and in 1983 he opened the one here in Liberty. John opened Monacos Restaurant in Boardman in 1990 and Monacos in Austintown in 1992. From 2002 until present, he was the owner/operator of the Monacos concession trailer and his food was enjoyed at many local festivals.
He was a member of the Knight's of Columbus and the St. Anthony Senior Citizens Group.
John leaves his wife; sons, John (Michelle) of Boardman and Thomas (Linda) of Naples, Fla.; his grandchildren, Anthony and Vincent Iandimarino and Adam (Amber) and Carleigh Kunce; a great-grandson, Liam Kunce; and sisters, Carmela Lemme and Ida (Charles) Phillips.
Friends and family may call from 4 to 8 p.m. on Thursday, Nov. 15, 2012, at the Schiavone Funeral Home in Youngstown.
Burial will be at Calvary Cemetery.
Please visit www.schiavonefh.com to share condolences with the family.
Guestbook Entries
"I MET BIG JOHN 60 YEARS AGO,AND, WE HAVE REMAINED FRIENDS EVER SINCE. I WILL MISS OUR MANY TALKS, ESPECIALLY THE " DOUBLE TALKING " AND NO BODY COULD DO IT BETTER! TO JOANIE, THE BOYS, AND THE GRANDCHILDREN, WE HAVE ALL LOST SOME ONE SPECIAL. GOD BLESS YOU ALL, AND, JOHN IS NOW IN HEAVENLOOKING OUT FOR US ALL."
» PAT PANTONE on November 14, 2012
"A man who was never at a lost for words.A man whom will be deeply missed by family&friends..R.I.P "Big John"."
» Frank Baran lll on November 15, 2012
Love
"Dear Joan, I don't have the right words to say to you so I say I love you and will pray for you. We will miss John so much, he was someone that God put into my life and made it better, Thank You Lord for Friends like John. God Bless your family."
» Ruth Crean on November 14, 2012
"We at Greenfield village will certainly miss John, his huge cigars, and the many hours of visiting and story telling by the pool. He will also be missed as a member of our board of directors. "
» George Kirchner on November 14, 2012
Love
"Dear Joan, I don't have the right words to say to you at this time know that I love you and I will be praying for you and your family. I want to thank God for Friends like John, He was a big part in our life, Pat and John had something very special and that comes from the Lord. We will miss John very much, and I want you to know we are hear for you any time. Love you lots Joan. November 14, 2012"
» Ruth Crean on November 14, 2012
Class of 1959
"We were shocked & saddened at the loss of our "forever friend" He will be remembered and missed by so many of us. His smilewill linger in our hearts. We sent his obituary to the classmates of 1959, as he was a friend to all. We apologize for not making the calling hours today as we are going to NYC this afternoon, to see our daughter. Our love, thoughts and prayer are with you and your family. With Sympathy, Dom & Carol Vechiarelli "
» Dom &CarolVechiarelli on November 15, 2012
"Joan, our thoughts and prayers are with you and the family on the loss of John. He endeared himself to all who knew and met him. We treasure the times we spent with conversing by the pool in Florida. I'm not sure what the "Swim Team" will do with out him. Our heartfelt sympathy and deepest condolences. "
» Mary&Bob Cudney on November 15, 2012
"Come fair time next year,I'm going to miss hearing Mr.Iandimarino's voice.I'll miss chit chatting with him on the phone.My deepest sympathy for the family.God Bless. "
» Pesce Baking Co./Carrie on November 15, 2012
Perfect for todays sermon
"Merry Christmas From Heaven I still hear the songs I still see the lights I still feel your love on cold wintry nights I still share your hopes and all of your cares I'll even remind you to please say your prayers I just want to tell you you still make me proud You stand head and shoulders above all the crowd Keep trying each moment to stay in His grace I came here before you to help set your place you don't have to be perfect all of the time He forgives you the slip If you continue the climb To my family and friends please be thankful today I'm still close beside you In a new special way I love you all dearly now don't shed a tear Cause I'm spending my Christmas with Jesus this year. Author: John Wm. Mooney, Jr. "
» Andy & Sandy Pappagallo(Chink & Sam) on November 16, 2012
Sign the Guestbook
---