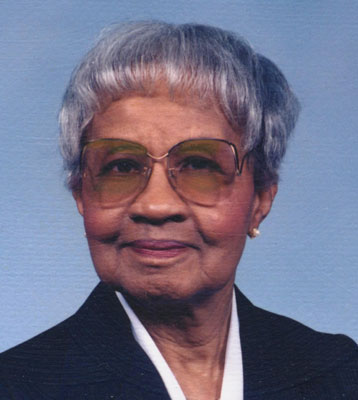 ELLA M. WASHINGTON
CAMPBELL– Services will be at 2 p.m. Friday, Nov. 16, 2012, at the L.E. Black, Phillips & Holden Funeral Home for Mrs. Ella M. Washington, 86, who passed away Sunday, Nov. 11, 2012, at ValleyCare Northside Medical Center.
Mrs. Washington, lovingly known as "Jo," was born April 23, 1926, in Youngstown, a daughter of Fred and Essie Hill Morris.
She worked as a domestic technician and was a loving homemaker to her family. She was a member of St. Columba Cathedral and the VFW Donald Locket Post 6488, Ladies Auxiliary. She enjoyed cooking, keeping up with current events, family gatherings and was an avid Pittsburgh Steelers fan.
She leaves to cherish her precious memory, a devoted son, Charles Washington of Campbell; two daughters, Carol Washington and Constance Washington, both of Virginia; a brother, Booker Morris of Boardman; a goddaughter, Victoria (Carlos) Rush of Warren; and a host of family and friends.
Besides her parents, she was preceded in death by her husband, Charles Lee, whom she married Oct. 9, 1954, and who passed away March 1977; and a brother, Fred Morris.
Friends may call Friday from 1:30 to 2 p.m. at the funeral home.
Guestbook Entries
Manager
"To the family of Mrs. Washington just know that we the staff and tenants of Tandy Apartments are praying for the family. Just know that God has his hands on you and that even thought this may be a hard time but it will get better. Be encourge you all will be in our prayers."
» Angie Pearson on November 14, 2012
"Aunt Jo - You will have always had a special place in all of our hearts! We will never forget you! Geraldine W. Johnson and Family"
» Sherolyn Johnson-Patterson on November 14, 2012
"For years I grew up next door to this soft spoken woman who was always friendly and looked out for my family. I will always have a special place in my heart for Ms. Washington. Peace and Blessings to the family. Love Leeisa"
» Leeisa Shade-Ford on November 15, 2012
"I send my deepest condolences to Charles, on the passing of your sweet mother. I hope you remember me - Darrel Joseph from Vienna, Austria. I would speak to your mother every day at Park Vista exactly one year ago, while my father was a patient there (Samuel Joseph). She introduced me to you during one of your visits to her. I loved talking to your mother very much - she was so kind and gentle, and it was obvious what a big heart she had. And she often spoke so kindly of you Charles - she would tell me what a wonderful son you are, and that you are such a good person. She truly loved you. I also hope you might recall that I brought your mother a little torte cake from my home here in Vienna, Austria last December. Your mother was so pleased with it, and I told her that I hope that the two of you would enjoy it. I was just thinking of her a couple of days ago, and then yesterday, I read her obituary on the internet - Vindy.com This saddened me, but then, she is in a great place now, in God's hands. And that is beautiful. Take good care of yourself, Charles, and you have my deepest sympathies. Your mother was a lovely person, and you are fortunate to have that love inside of you. God Bless you. Kindest regards, Darrel Joseph Vienna, Austria"
» Darrel Joseph on November 18, 2012
Sign the Guestbook
---