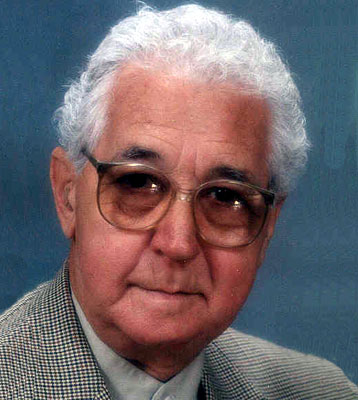 ANTHONY JOSEPH CRISH
YOUNGSTOWN – Anthony Joseph Crish passed away on Nov. 12, 2012, surrounded by family at Essex House in Salem.
Tony was born the son of Anthony and Mary (Presciano) Crish  on June 8, 1928, in Youngstown.  
He grew up in Youngstown and attended Chaney High School.  He served as a Military Police Officer in Yokohama, Japan for the U.S. Army from 1946 to 1947.  He married Esther Criscione on June 17, 1950.
Tony worked for Youngstown Steel Door from 1947 to 1983. He was an active member of St. Rose Church in Girard until 2005. He was a member of the Knights of Columbus as well as a frequent church and community volunteer.  He also belonged to St. Christine's Church in Youngstown from 2005 to 2012.
Tony was an avid golfer and belonged to the YMCA and Steel Door Golf leagues.
Tony is survived by his loving daughters, Janice Crish of Niles, Marj (Kevin) Schmidt of Snohomish, Wash., Linda Berringer (Chuck Freeland) of Pembroke Pines, Fla. and Mary Jo (George) Vaughn of Austintown; grandchildren Melissa (Cyrus) Hormuzdi, David (Jenice) Berringer, Nicholas Schmidt, Natalie (Chris) Marrano, Angela and Jenna Vaughn; and six great-grandchildren. Tony is also survived by his two brothers, Richard (Corrine) Crish and Robert Crish, both from Boardman; family members, brother-in-law, Joseph (Rita) Criscione of Girard and sister-in-law, Margaret Criscione of Virginia; special close friends, Jeannie Durivage and Casey Machak; and multiple nieces and nephews.
Tony was preceded in death by his wife, Esther, who passed away six years ago and his many brothers and sisters.   
Calling hours will be on Thursday, Nov. 15, 2012, from 4 to 7 p.m. at the McClurkin Funeral Home in Girard.
A Mass of Christian Burial will be held on Friday, Nov. 16, 2012, at 10 a.m. at St. Rose Catholic Church in Girard.  There will be prayers at 9:30 a.m. on Friday morning at the McClurkin Funeral Home prior to the church Mass.
Guestbook Entries
"To all of family members you truly lost one gem of a man and father. He wouldn't say no to anyone. He is now with his love and not suffering anymore. May you rest in peace Tony...."
» Virginia DelBene on November 14, 2012
Sign the Guestbook
---