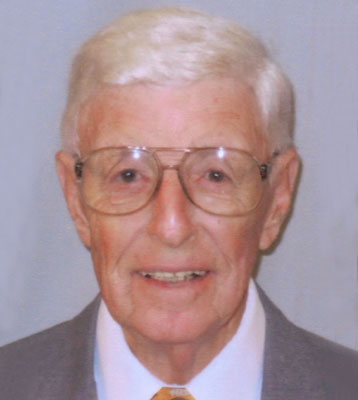 WALTER C. HACKER
SEBRING – Walter C. Hacker, 88, of Copeland Oaks, formerly of East Palestine, died at 1:45 p.m. Thursday, Nov. 8, 2012, at Crandall Medical Center.
Mr. Hacker was born Sept. 14, 1924, in Negley, a son of Albert T. and Cora Watson Hacker and had lived in Sebring since 2004, coming from East Palestine. 
He was a 1942 graduate of East Palestine High School and a 1947 graduate of McKim Technical Institute. He served in the U.S. Navy during World War II in the Asiatic-Pacific Theatre as a Petty Officer. He was a member of the United States L.S.T. Association and the Ohio Amphibs Association.
He worked for the G. M. McKelvey/Higbee Company for 30 years as a refrigeration and appliance technician. Since 1983, he was employed as a warranty parts manager with V & V Appliance Parts Company, retiring in 1998.
He was a member of the First United Presbyterian Church, East Palestine, where he served as an Elder and Deacon and was also chairman of the building committee for the Christian Education wing. Mr. Hacker was a member and Past Master of Negley Lodge No. 565 F. & A.M., a member and Past High Priest of Royal Arch Masons of Ohio No. 204, and a member of Royal & Select Masons of Ohio Council No. 123 of East Palestine. He was a 50 year plus member of all three Masonic bodies.
He is survived by his wife, the former Rebecca Jane Zundel, whom he married May 6, 1950; his two children, Audrey Kay and her husband, Thomas Jordan of Canfield, their daughter, Jill (Steve) Jaeger and their son, Patrick of Gulfport, Fla. and their son, Nathan Jordan of Peoria, Ill.; and Rebecca Lynne and her husband, Martin Hibbard and their daughters, Maria Hibbard and Teresa Hibbard, all of Gahanna.
Funeral services will be held at 11:30 a.m. Monday, Nov. 12, 2012, at the Van Dyke-Swaney-Rettig Funeral Home, East Palestine, with Pastor Carolyn Griffeth officiating. Burial will follow at Achor Cemetery with military honors accorded by the East Palestine Honor Guard Group. 
Friends may call at the funeral home from 9:30 to 11:30 a.m. Monday, where Masonic Services will be held.
Please visit www.familycareservices.com to sign the register and to send condolences.
Guestbook Entries
"we will miss your visits."
» jerry @ v and v on November 12, 2012
Sign the Guestbook
---