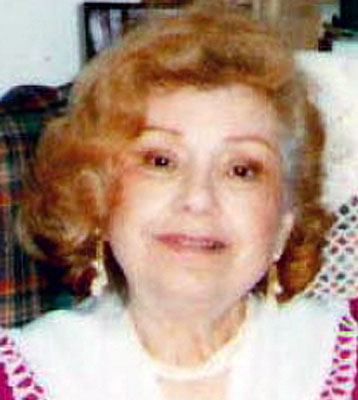 VIRGINIA WEAVER
NEW CASTLE, PA. – Virginia Weaver, 98, formerly of Austintown, passed away the morning of Nov. 9, 2012, at Golden Hill Nursing Home.
She was born Jan. 7, 1914, in Hillsville, Pa., and was the daughter of the late Thomas and Rose Sanflippo Anselmo.
She married her husband, the late William H. Weaver in 1951. He preceded her in death June 11, 1977.
Mrs. Weaver worked in retail sales for different department stores in both the Youngstown and New Castle, Pa. areas. She was a member of the Epworth United Methodist Church. Virginia enjoyed sewing and had a passion for collecting dolls. She loved her pets, being a homemaker and spending time with family and friends.
She is survived by her grandniece, Lucyndia Marino of New Castle; nephew, Michael DeNucci of New Castle; several additional nieces; her cat, Timmy; best friends, Jane Bressen, Kathy Garland and Lisa Walters; all her caregivers at the Golden Hill Nursing Home, Annette, Dee, Monica, Marcia, Kim, Stephanie, Corrie; and all her aides at the home.
In addition to her parents and husband, she was preceded in death by two brothers, Joseph Anselmo and Donald Anselmo; and three sisters, Sally Cuzarez, Lucy Castele and Rose DeNucci.
Private visitation and a private service will be held at the Ed and Don DeCarbo Funeral Home and Crematory Inc., 3000 Wilmington Road, New Castle. The Reverend Dennis Bupp will officiate.
Entombment will be at Green Haven Memorial Gardens, Canfield.
Please visit www.decarbofuneralhome.com to view this obituary and to send online condolences.
Guestbook Entries
« Be the first to sign VIRGINIA WEAVER guestbook.
---