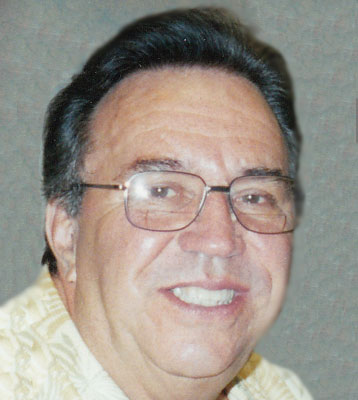 GAETANO T. 'GUY' AMICONE
POLAND – There will be funeral services at 10 a.m. on Monday, Nov. 12, 2012, at the Rossi Brothers & Lellio Funeral Home in Boardman, followed by an 11 a.m. Mass of Christian Burial at Christ Our Savior Parish at St. Nicholas Church in Struthers for Gaetano T. "Guy" Amicone, 74, who passed away Wednesday evening, Nov. 7, 2012.
Gaetano was born Dec. 15, 1937, in Youngstown, the son of Charles and Angeline Julia Amicone.
He was a 1956 graduate of East High School and was a U.S. Army veteran. Guy was employed at CSX Railroad as a conductor and brakeman, where he retired in 1999 after 37 years. He was a UTI Union member, member of the Fruit Street Gang of the East Side and member of the Bowling League at the Bowladrome in Struthers. Guy was a member of Christ Our Savior Parish at St. Nicholas Church. He enjoyed the outdoors, seeing animals and loved the Sport of Kings (horse racing) and his garden.
He was a family man who especially enjoyed holidays and events with his children and grandchildren, whom he loved and adored. He had a special place in his heart for his step-grandchild, Grace Gorby and her dad, Wesley Gorby. Guy wanted everyone to know he loved his wife, Julie's cooking and baking and was her "Teddy Bear." He enjoyed the company of his friends he met for coffee at Burger King and Panera.
Guy will always be remembered by his wife, the former Julia Macala, whom he married Sept. 13, 2003; his former wife, Toni Amicone; a son, Guy C. (Joseé) Amicone of Pompano Beach, Fla.; two daughters, Lynette (Cyril) Mattis of Massilon and Susan (Raymond) Jahn of Naples, Fla.; two stepdaughters, Cindy Covert of Deland, Fla. and Melissa Gorby of Niles; four grandchildren, Matthew Mattis, Alyssa Mattis, Gaetano Amicone and Dominic Amicone; two step-grandchildren, Zachary Covert and Gracie Gorby; three sisters, Roseann (Ron) Hackett, Angie (Tom) McDuffey and Diane (Tony) Agnesi; a brother, Charles L. Amicone; his granddogs, Bella Rose and Mattaeo; and several nieces and nephews.
He was preceded in death by his parents.
There will be calling hours from 4 to 7 p.m. on Sunday, Nov. 11, 2012, at the Rossi Brothers & Lellio Funeral Home, 4442 South Ave. in Boardman.
A special thank you to his brother-in-law, Ron Hackett, who helped him and kept him company during his illness, and to Dr. Ravinder Nath, who guided him through his illness.
Family and friends may visit the Book of Memories at www.rossifunerals.com to view this tribute and send condolences to Gaetano's family.
Guestbook Entries
"Toni & family, So sorry for your loss."
» Loretta on November 10, 2012
"Condolences from our family to yours Guy and Sissy. Our deepest sympathy to you. "
» Frank Austrino on November 10, 2012
Friend
"Our thoughts and prayers are with you. God Bless you and comfort you during your sorrow. Love, Charlene and Jim Loth"
» Charlene and Jim Loth on November 10, 2012
"Our thoughts are with you and your family...."
» Larry and Susan Pagley on November 10, 2012
"May he rest in peace. Praying for his family and friends."
» Diane M Young Koogle on November 10, 2012
"God looked upon his garden and found an empty place. He put his arm around "Guy" and lifted him to rest. God's garden is now so beautiful, he takes only the best. Peace be thine. May you rest in peace."
» Diane Fuermann on November 10, 2012
"Julie, So sorry to hear of your loss. My thoughts and prayers go out to you and the family at this sad time. May he rest in peace. Love, Tooty"
» Tooty Marshall on November 10, 2012
"Grandma Julie, our hearts go out to you and the rest of the family. You are all in our thoughts and prayers. Love, Priscillita & Dave."
» Priscilla & David Reese on November 11, 2012
Thinking of your family
"Toni, Guy, Sissy, Lynette and family We are so sorry for your loss. Our hearts go out to all of you. You are in our thoughts & prayers. Sincerely, Kelly, Connie, Vincent, Debbie, Paula and Vince Zuccaro "
» Kelly Z on November 12, 2012
"Very sorry to hear of Guy's passing. We went to high school together. So sorry for your loss."
» Judy Martin Hamracek on November 17, 2012
friend
"I am sorry this is so late as I have not been able to get online for awhile. My condolences to youand your family for your loss. I am sure he is with our Lord and watching down on all of you as you try to get through the Holidays. God Bless all of you. Love, Kathy McDowell"
» Kathy McDowell on November 24, 2012
""My thoughts and prayers are with the family""
» Kenny Covert on December 17, 2012
Sign the Guestbook
---