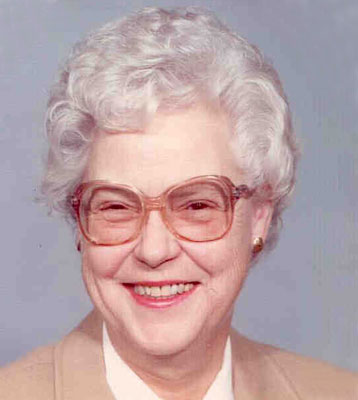 RUTH VIRGINIA 'GINNY' JONES
AKRON – Ruth Virginia "Ginny" Jones, 89, passed away Oct. 28, 2012. 
She was born to Wiegand and Esther Jenson in Baltimore, and completed her education at Union Memorial Hospital School of Nursing.  Ginny served in the Army Nurse Corps during World War II. 
She married Dr. Edward H. Jones Jr. and raised their family in Youngstown. 
Ginny was an active volunteer with the Board of Fresh Air Camp and she was a Sunday school teacher and Director of Christian Education at the First Presbyterian Church in Youngstown.
She was preceded in death by her parents; husband, Dr. Edward H. Jone, Jr.; son, Douglas Edward Jones; daughter-in-law, Connie Jones; and son-in-law, Jack Keogh. 
Ginny is survived by her children, Nancy Keogh, Keith Jones and Ann Skinner; grandchildren, Keith (Olivia) Jones Jr., Jacob and Sean Skinner and Callie Seachrist; and great-grandchildren, Taylor, Mackenzie and Hailey. 
A memorial service will be at 11 a.m. Saturday, Nov. 10, 2012, at the First Presbyterian Church, 201 Wick Ave., Youngstown, OH 44503, with the Reverend Nick Mager officiating. 
Friends will be received from 10 to 11 a.m. Saturday at the church. 
Donations may be made to the First Presbyterian Church.
Guestbook Entries
"So very sorry for the loss of such a wonderful woman. My thoughts and prayers are with your families at this time."
» Miles P. Assion on November 5, 2012
Sign the Guestbook
---