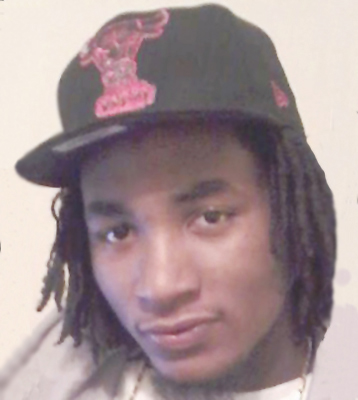 PA'KO J. LACEY
YOUNGSTOWN – Funeral services will be at 1 p.m. on Tuesday at the Holy Trinity Baptist Church for Pa'Ko J. Lacey, 20, who departed this life Tuesday, May 15, 2012.
Mr. Lacey was born April 18, 1992, in Youngstown, a son of Charles and Vicky "Pie" Alexander Lacey.
He was raised by his aunt, Helen P. Lacey.
He was a very silly guy and well loved. He played football for the Westside Patriots. He attended Chaney High School and also attended GED classes. He successfully completed his T.A.S.C. program and received a certificate.
He leaves his mother of Atlanta; aunt Helen of Youngstown; five sisters, Tamara Brooks of Columbus, Elida and Ai'Yana Lacey, both of Atlanta, and Tai'lor and Dia'Mond Lacey, both of Detroit; six brothers, Dwaylon Alexander of Detroit, Robert Lacey of Hampton, Va., Ed'Wyn (Jeane Anderson) of Youngstown, V'Keon Lacey of Arlington, Texas, Jor'Gio and Da'Koda Lacey, both of Atlanta, and Damon Alexander of Reynoldsburg; grandmothers Mary Lee Alexander of Youngstown and Edwina Pegues of Grosse Pointe, Mich.; and a host of aunts, uncles, cuddies, and friends.
He was preceded in death by his father; a brother, Anthony Lacey; and grandparents Thomas and Janie Anderson Alexander and M.G. and Frances O'Neil Lacey.
Friends may call from noon to 1 p.m. on Tuesday at the church.
Arrangements are being handled by the F.D. Mason Memorial Funeral Home.
Guestbook Entries
"My deepest condolences to the family. RIP dear Pa'Ko. May justice be served!"
» S.H. on May 20, 2012
mzbratton
"hey pako watching u grow from a boy to a man was the best years of my life i remember when we used to talk about each other everyday we love and miss u very much pako r.i.p. baby boy"
» tiffany bratton on May 20, 2012
R.A.W. Ministries
"My prayers and sincerest condolences to you Vickie "Pie" and your family in the loss of your son. I pray that You all will trust God and lean on Him alone for guidance and direction in your time of hurt,sorrow, pain and unbelief. God alone is able to comfort and bring you through. Our prayers are with you."
» Elder Jessica Moody on May 20, 2012
R.A.W. Ministries
"My prayers and sincerest condolences to you Vickie "Pie" and your family in the loss of your son. I pray that You all will trust God and lean on Him alone for guidance and direction in your time of hurt,sorrow, pain and unbelief. God alone is able to comfort and bring you through. Our prayers are with you."
» Elder Jessica Moody on May 20, 2012
R.A.W. Ministries
"My prayers and sincerest condolences to you Vickie "Pie" and your family in the loss of your son. I pray that You all will trust God and lean on Him alone for guidance and direction in your time of hurt,sorrow, pain and unbelief. God alone is able to comfort and bring you through. Our prayers are with you."
» Elder Jessica Moody on May 20, 2012
"Hey , Pa'ko , i just want to say that i'm going to miss you a lot and that you are always going to be in my prayer and i hope that justice will be served . R.i.p Pako j Lacey i will always love &' miss you . You will always be remembered "
» Laysha White on May 21, 2012
"Gone too soon, but the good news is you have departed this mean world to be with our Father in Heaven. Rest in Peace and peace & blessings to Ms. Helen and the Lacey Family! Love, Lil Hasani, Tamya, Nitra & Hasani"
» Lanitra Lacey on May 21, 2012
"My Prayers goes out to this entire family, and May God bless y'all and hold y'all close to his heart during this time of sorrow"
» Keisha on May 21, 2012
Sympathy
"Helen,Lump and Family.Praying for God's blessing and peace during this difficult time.Remember God makes no mistake."
» Diane Parkman-Clark on May 21, 2012
cousin
"May the Lord keep you in this hour of need and comfort you with His precious Love "
» Verdell Buggs Smith Thornton on May 22, 2012
Sign the Guestbook
---