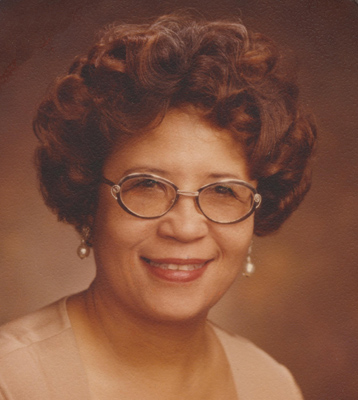 VELMA LOIS HOLDEN
GIRARD – On Sunday, May 13, 2012, God sent his angels to the bedside of one of His precious children, Velma Lois Holden, 85, to escort her in transition to her heavenly home, surrounded by her loving family at Northside Medical Center.
Velma was born Aug. 28, 1926, in Alexandria, La., a daughter of Isaac and Olivia Hovell Alexander, coming to this area as a young adult.
She was a 1944 graduate of Gilbert Academy High School in New Orleans, and attended Meharry Medical College School of Nursing in Nashville.
On June 19, 1948, Velma was united in marriage to the love of her life, Dr. Henry Holden Sr. and to this union three children were born. For many years, she worked alongside of her husband, who was a Doctor of Internal Medicine, as his office manager.
She was a member of the Centenary United Methodist Church, a dedicated member of United Methodist Women, and member/past president of the Women's Auxiliary of Mahoning County Medical Society. She enjoyed reading, traveling, music and above all, taking care of her beloved family.
She leaves to mourn her passing, but rejoice in her peace, her devoted husband of 63 years, Dr. Henry Holden Sr.; three children, Rosalinde (Clifford) Smith of Woodbridge, Va., Henry (Pamela) Holden Jr. of Girard, and Michelle (Anthony) Robinson of Ft. Washington, Md.; six grandchildren, David (Joan), Brian (Raynetta), Trey (Minerva), Olivia, Henry III and Lydia; five great-grandchildren; and a host of cousins, other family and friends.
Friends may call Thursday from 4 to 7 p.m. at the L.E. Black, Phillips & Holden Funeral Home.
Funeral services will be at 11 a.m. Friday at the funeral home.
Guestbook Entries
"My deepest sympathy to your family."
» Clara Jones on May 16, 2012
"My deepest sympathy to your family."
» Clara Jones on May 16, 2012
"So sorry for your loss, I will alwyas remember the good times at your home playing with Rosalind, may you rest in Peace"
» Martel Davis Allen on May 16, 2012
"To the Family, my thoughts and prayers are with all of you. Mrs. Holden will be missed."
» Frances Prayor Singleton on May 16, 2012
"I am sorry for your loss, my deepest sympathy goes out to your family"
» Pamela Lewis on May 16, 2012
"My thoughts and prayer are with the family. "The Lord will give strength unto his people; the Lord will bless his people with peace" Psalm 29:11"
» Nathaniel Maurice Simmons on May 16, 2012
"Mrs. H. may you rest in peace. I will always remember the special occasions spent with you and your family. God has gained another angel."
» Alprett Young on May 16, 2012
Ms
"To the Holden Family, We have known the Holdens for a very long time, and it is with deepest regrets that this has come to passings. I would like to say for the Sibley Family, we hold you in our prayers for your loss."
» Linda Sibley McCall on May 16, 2012
"Aunt Velma may you rest in peace. My deepest sympathy to the Holden and Hovell family. Many good memories."
» Lois Stewart Nelson on May 17, 2012
"My deepest sympathy to Michelle and the Holden Family. May god be with the family at this time of sorrow. "
» Woodrow Wallace on May 17, 2012
"Henry, Rosalind, Henry Jr. and Michelle -- Please know that you are in our hearts as we remember you with our prayers. Velma's faith and belief always let her know that this life on Earth was only transitroy; that s great s it seemed her, awaiting her was a life unlike anything -- a heavenly life with so many loved ones that have gone before her. And so, although she will be greatly missed by us all, we know that Velma is happy and at peace in her eternal home. God's blessings of comfort, peace, and love to you all."
» cousin, Donald Lusk and wife Bettie on May 19, 2012
Your California Family is Lifting You Up
"Dear Uncle Henry and my dear cousins Rosalind, Henry Jr. and Michelle, I thank God for Aunt Velma, her love, kindness and the examples she set for me in various aspects of life. I have such fond memories of childhood trips to Youngstown. Charles and I love you and are praying for you. Please be comforted in knowing: "And I heard a voice from heaven saying, "Write this: Blessed are the dead who die in the Lord from now on." "Blessed indeed," says the Spirit, "that they may rest from their labors, for their deeds follow them!" (Revelation 14:13) "
» Mrs.Michelle Holden Cole on May 24, 2012
nephews&nieces
"uncle henry and family,we the holden family in michigan,are deeply saddened at the death of our beloved aunt velma,may god bless and keep you during this difficult time in your lives.stay strong for she is the wind beneath your wings.love"
» clover&joann holden&family on May 30, 2012
"Dr Holden your wife was a incredible lady. I was a drug representative that called on you for years. Mrs. Holden was one of 4 ladies that was a great person. I'll never forget when she was one of two doctor wives that bought me a present for the birth of children."
» Fred Schuster on August 21, 2012
"To the Holden family my sister and I will always remember your mom, for her kindness extended to our parents, Rev. Robert R. Lockett and Rev. Mrs. Willa Mae Lockett. She treated them as family whenever they were in her care. Mrs. Holden was a prime example of a "lady". We are praying with you and for you. Paula & Twyla"
» Lockett Sisters on March 12, 2013
Sign the Guestbook
---