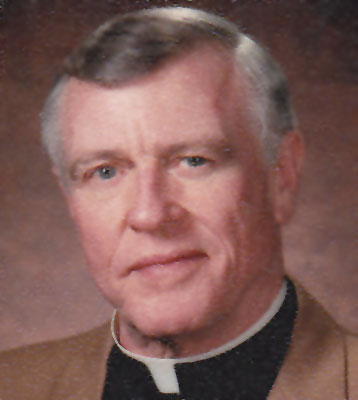 FATHER RICHARD MADDEN O.C.D
YOUNGSTOWN – A Mass of Christian Burial will be celebrated Friday morning at 10 a.m. at St. Michael Church in Canfield for Father Richard Madden, O.C.D., 88, who died peacefully Saturday at the Hospice House.
Father Madden was born Feb. 16, 1924, in Philadelphia, one of the seven sons of Jim and Ann Meehan Madden.
He attended seminary at the Holy Hill Monastery in Milwaukee, Wis., was ordained a Discalced Carmelite on Dec. 14, 1949, and then served as its Vocational Director. Father Madden also was a resident at the Carmelite Monastery in Washington D.C. while teaching at Catholic University.
In 1955, Father Madden was assigned the task of establishing a Carmelite Monastery in Youngstown, which he did on Volney Road on Youngstown's Southside, and the rest is history. The beautiful home that shared its backyard with Mill Creek Park became a place of reflection and community for not only members of the Carmelite Order but for many of the area faithful who would attend Mass there. It affectionately and reverently became known to everyone as the "Monastery."
Especially close to his heart was celebrating Christmas Eve Mass at Mr. Anthony's with thousands of area families.
Fr. Madden was a renowned teacher and lecturer, he gave hundreds of speeches and conducted numerous retreats throughout 48 of the 50 states and for the U.S. Air Force in Turkey. One of his proudest moments was giving a week long retreat for the prisoners at Lewisburg Federal Penitentiary.
Fr. Madden authored three books, "Men in Sandals," "Life of Christ" and "A Boy in his Teens." He also published many articles in journals, newspapers and magazines including TIME, wrote a weekly advice column for Hi Time magazine for 16 years, which was read by millions of teenagers and was the editor of Mount Carmel Magazine. After his book, "Men in Sandals," appeared on the best sellers list, he was invited to appear on the Jack Parr Show, but his priestly duties prevented the national television appearance.
Fr. Madden offered the opening prayer for the opening session of the U.S. House of Representatives, receiving a Certificate of Recognition by the Speaker of the House and was invited to the Reagan Presidential Inauguration.
In addition to his many duties as a priest, Fr. Madden served the community as President and Chairman of the board of the WRTA, operation supervisor for the U.S. Census for Mahoning and Trumbull counties, hosted the Youngstown Safety Councils monthly radio show, was defensive driving instructor, served as chaplain for the Youngstown Fire Department, was a member of the Youngstown Drug Commission and was a member of the Youngstown Air Base Council. As a member of the Air Base Council Fr. Madden was instrumental in procuring air transport for the locally based charity "Mission of Love." Father also was a member of the National Speakers Association and Kiwanis International.
Always active, Fr. Madden had earned his private pilots license, played golf and tennis, and enjoyed skiing and scuba diving. He was also an active member of the Youngstown YMCA, where he swam 20 laps every weekday.
One of his prized awards was the Don Bosco Award for his National Influence over Catholic youth, which he received along with Gil McDougal of the New York Yankees and Floyd Patterson, the then World Heavy-weight champion.
He will be sorely missed by everyone whose life he touched.
Besides his parents, he was preceded in death by his six brothers.
It is requested that material tributes take the form of donations to the Hospice House in Father Madden's memory.
Friends may call from 4 to 8 p.m. Thursday and from 9 to 9:45 a.m. Friday at St. Michael Church in Canfield.
Professional arrangements are by the Higgins-Reardon Funeral Home, Boardman-Canfield Chapel.
Guestbook Entries
"We are going to miss you. Rest in peace."
» Dave & Alice Felden on June 18, 2012
"Thank you Father Madden for being our friend for many years...may you rest in peace. "
» Liz McGarry on June 18, 2012
"You always greeted us with open arms and even baptized our child when no one else would. We will deeply miss you and God's Backyard."
» John and Laura Mogulich on June 18, 2012
"Father, may you rest in peace. You have done God's work in bringing so many souls to the Father. You will be missed. Continue to pray for us as we will pray for you."
» Bob and Diane Debiec on June 18, 2012
"His books were very humorous and well written. I found them online and he was delighted to have copies of them. He lives forever in the words he said at the end of every mass. "Go have a great day -- no matter what." "
» Mark Morelli on June 18, 2012
"Godspeed, Padre! Thank you for being OUR priest and friend at OUR church for the 42 rewarding years we knew you! You were the BEST disciple of Christ EVER, keeping the gospel alive and applying it to our lives today with every mass/homily you gave. We will NEVER forget you, the Monastery and God's Back Yard! With eternal longing, love and gratitude, The Slaters. PS - see you on the Other Side!"
» Duke, JoJo, Olivia, and Faith Slater on June 18, 2012
"There are very few people who leave their mark on our lives. Father Madden, your name will always be remembered with a reverence. You were devoted to and beloved by your parishioners for your insightfulness and keen Irish sense of humor. Your passing leaves behind a huge spiritual void in the Youngstown community. You will be dearly missed by so many whose lives you touched. "
» Angela, Brennan and Connor Williams on June 18, 2012
Boca Raton, FL
"In a world of spurious clergy you were the one true man of God. When my mother lay dying & her parish couldn't send a priest - you came & gave her last rites. You got me through the death of both my parents. When my son was born 3 years ago I gave him the middle name Madden as a tribute to you, with the hope that he will live a long life with the grace, humor, humility & love that you showed everyone. Cici you are in our prayers for taking care of him as you did. Thank you "
» Bill, Robyn & Matthew McClure on June 18, 2012
"Father Madden: you always preached not to wory about eternal life and not to be afraid. Now, you can enjoy eternal rest with god and his son Jesus peacfully. It was great to hear your down to earth homilies. I will grately miss them. You were and always will be our Jesus on earth. God Bless you."
» Matt Giambattista on June 18, 2012
"Thank you for watching me grow up from my baptism to many Christmas Eve services in the snow. You will be missed be my entire Conroy family!"
» Eve E. Conroy on June 18, 2012
"Father Madden was one of the best people that I ever met. He really did teach me what it was to be a good Catholic and a good person. GOD bless you and thank you for being my priest. We all love you and will miss you."
» Bill James on June 19, 2012
Fort Myers Fl
"Thank you for fulfilling our spiritual needs that brought us all closer to God. You will always be in my prayers. God's blessings to you and may you find peace and rest in the kingdom of Heaven"
» P. Hadgkiss on June 18, 2012
friend
"Fr. Madden, I will always remember your heartfelt advice during my most difficult times of my life. I keep your notes with me and often read them in times of trouble. Thank you for being such a good friend and I will miss you deeply. I will pray to you often. "
» Mary Weinberger on June 18, 2012
"Thank you Father Madden for so many rich memories, both spiritual and secular: God's Backyard, Christmas dinners at the Zimmerman's and Cox's, keeping for decades the pictures I drew for you when I was young. You always made everyone feel special. We love you."
» Susan Cox on June 18, 2012
"Never forget all the trips to the Monestary - always gave great sermons and never forget raking leaves for Jesus. - Father Madden was someone that you knew could never pass on because he was already there on earth. "
» Dom Mancini on June 18, 2012
"You will be missed greatly. You were like no other priest I have ever known. I am sorry that I didn't know you were ill. Your soul will be in my prayers. Not that you need it. Thank you for being so special to everyone."
» Kerry Carfano on June 19, 2012
"I know you are in a better place with God and thats where you wanted to be with your maker, but I will miss you so much. You gave to me so much comfort and everytime you gave me a kiss on the check I felt like I was in heaven. You gave to everyone a gift from God. You will be in our hearts forever and you really are in Gods backyard now."
» Karen Kozak on June 19, 2012
"Father, you will be so missed. Who else would hear my confession in the middle of a golf game when he was 2 down? I will never forget you. Bill Cox"
» Bill Cox on June 19, 2012
Edited version
"There are no words to express how much you will be missed. We have been going to "God's backyard" for 42 years and you are a friend to everyone. To know you is to love you. You were truly God's messenger. God Bless you Ce Ce,you took good care of Father. With love & thanks(The Emery's) Bill,Char,Billy,Bob,Jeff& Janet"
» Charlotte Emery on June 19, 2012
My morning friend
"I watched father swim for the last two years. It was a pleasure to be his lifeguard. He was an amazing man and a dear friend. The world was made better when God gifted us with Richard. He is truly missed. "
» Rachael Madden Slivkoff on June 19, 2012
"Could God say anything better to you other than "Well done, good and faithful servant." I will miss you ... we all loved you so much!"
» Tim and Debbie Anderson on June 19, 2012
"Dear Father Richard: I understand that you have decided to leave Youngstown and pack your bags and move on up to Heaven. Good choice. However we are sad as well as many of us here. We are all just wishing that we could have hugged or held your hand just one more time before you decided to move on. You left us with love from the heart,diginity and respect for all. You are definitely a Saint in all of our lives, yet when you do arrive with God in Heaven, may I please ask just one huge favor...Please give a hug to our very dear friend Patty Waidner. Tell her just how much we do miss her..but I think that she knows this. You both will have so much fun decorating Gods back yard in Heaven. Love and hugs to you our dear Father. Roger and Claudette Jolicoeur And thank you Father for all you have done for us, especially marrying our beautiful daughter Kristin in Ann Arbor Michigan. You were just wonderful. Thank you, Thank you. Love you CeCe"
» claudette jolicoeur on June 20, 2012
"i remember you telling a little red headed kid of 6 the the population only had 5% of natural redheads.i wanted to know who the olter 4 people were. That was 35 years ago and i still remember you taking your time to actually talk to people just not at them. I loved going to "gods back yard" on sunday with our blanket or lawn chair. Squeezing in for Christmas mass praying you didnt get stuk next to the bathroom. You will always hold a special place in many peoples heart.Rest peacfully Father, you are home. 5 "
» K Hutera-Hamady on June 20, 2012
"To be in Father Madden's presence, was to feel love, compassion, understanding and warmth. God worked through Father Madden in such a steady, beautiful and profound way, touching our lives so deeply and showing us what it means to be a servant of God. Thank you, Father Madden, for your warm smiles and embraces and for making our days good, no matter the struggles we faced, by assuring us we were never alone. What a welcome you must be having to Heaven. I'm certain my mom was among your crowd of greeters in God's backyard."
» Denise on June 22, 2012
"Father Madden, I have known you since I was born. You gave me my first communion and my dad was your alter boy when he was younger. You always made it a point to say hi to me and always said something special to my during communion. I am so very sad to hear you passed. I know that is not what you would want, you would want me to be happy that you are in heaven. I am. I will miss you dearly. Rest in Peace. "
» Robin on June 22, 2012
"For years, Father Madden has been a large influence on our perception of God and life. When Alice's sister died suddenly in the 1970's at the age of 33, Father Madden gave us - througha parables - the perspective that the understanding of God's will is part of our spiritualism. It helped us realize that faith is not described in black and white terms. Faith cannot be turned on and off as events happen. Alice's sister is in a better place. Father Madden is in a better place. We are sure he had a non-stop eleveator to the top floor!"
» Alice and Alex on July 7, 2012
"RIP dear Fr. Madden. You were the best and remain so in our hearts forever. When our Pastor, Msgr. Heinrich asked us to help clean 'The Monastery" so it could be ready for the priests and Brothers our entire family went and cleaned the place spotless over that summer. Then we got permission to attend Mass there wsith Fr. Madden. We all heard him speak on masny occassions. Fr. Madden was the most dynamic motivsational speaker. Of couyrse he had many great topics for content. His talks were all great eddifying, inspiring, uplightfiting and very inspiring beyond belief. Madden was a mesmerising speaker who could have us crying or lasughing but they were always sacred or about something important in our behavior or our thinking. We loved him and he sailed on often raising the house and our spirits as well. Over the years the monastery got cleaned many times over and we got someome, s friend who never forgot us and always greatly inspired us all. Fr. Madden was much believed. Madden spoke to our hearts, our minds and our humanity. A very rare thing. In this day of strange clergy and stranger bishops Fr. Madden did it the way it was supposed to be down. They couldn't get rid of him because he was far better and he inspired. Thank you for everything Fr. Madden and for a great many gifts of love and inspiration that you gave us. They couldn't get rid of him, he was far better and greatly beloved. Thanks for everthing Fr. Madden and keep a space waiting for me in heaven. I'll be there soon. Bob D'Amico "
» Bob D'Amico on July 10, 2012
R.I.P.
"Thank you Father Madden, for your friendship, love and support.We are going to miss those great inspirational sermons.Forever loved, Forever missed, but never forgotten. We love you. The John Paul Shutrump Family"
» cindy shutrump on August 8, 2012
Your Loving Family in New Jersey
"I am so happy that you are back together with your brothers, Mom & Pop. I wish I was given the chance to say goodbye, but I will never forget what you told me on the phone those few days before you went to your heavenly home. Thank you for being such an important part of my life and the life of my daughters . We will miss & Love you until we meet again. "
» Catherine Large on March 19, 2013
"Thank you Father Madden for giving me hope as a young child in a very difficult situation. You told me I was special and I held on to that . . .and my Catholic faith all my life. Your words got me through some very difficult times and gave me the hope to keep going no matter what. God bless you and someday I hope to thank you in person. Big hugs!"
» Maureen Powell Gardner on August 30, 2013
You will always be remembered
"i just discovered you departed to be with our beloved Savior, Jesus. I knew you in 1952 when i worked with you behind the soda fountain at Holy Hill.I'll never forget the good time and laughs I had with you-then you even showed mr your miniature airplane collection. I was truly blessed at 16 yrs of age to be in the company of such a saintly man. Then again at 20 yrs. of age I got to see you again in Milwaukee at St. Stanislaus Church. What a dynamite speaker and what a thrill for me to hear you. Then I was double blessed to speak with you in the rectory for the last time. You blessed me for my forthcoming marriage. I believe I will see you in heaven."
» Mary Annette Casper on December 17, 2013
Sign the Guestbook
---