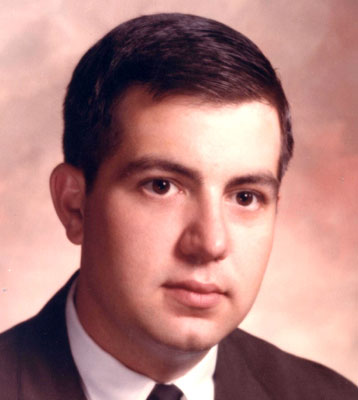 PATRICK HERMAN VENNETTI
INDIANA - Patrick Herman Vennetti, 69, passed from this world peacefully, surrounded by those that knew and loved him on June 5, 2012, in Franklin, Ind. after a four year struggle with an illness.
Patrick was born July 28, 1942, in Warren, the only child of Herman and Mary (Yannucci) Vennetti.
Patrick graduated from Warren G. Harding High School in Warren and went on to graduate from Youngstown State University in 1965 with a BS in Business Management. His fraternity was S.A.E. Patrick then joined the U.S. Army and honorably served his country in the Vietnam conflict.
Patrick then went on to marry his first wife and college sweetheart, Joanne (Raggazine) Vennetti. In 1968, Patrick and Joanne purchased the family business, Cy's Airport Inn, in Vienna, which Patrick operated for over 20 years. Shortly after selling the restaurant, Patrick accepted a position as a general manager for Cracker Barrel in Anderson, Ind.
While in Indiana, Patrick would meet his second wife, Victoria (Carver) Vennetti. They were married Dec. 22, 1993, and settled in Franklin, Ind. Patrick and Victoria owned and operated a successful insurance agency in Franklin. Patrick was involved in many civic organizations in his life, most recently the Franklin Indiana Lions Club, of which he was past president and from which he received their highest honors of Melvin Jones Fellow as well as the W.P. Wood Fellow awards for his dedicated service.
Patrick was quite a character and will be lovingly remembered for his unique sense of humor, his intelligent, inquisitive mind, his generous and compassionate nature and his deep sense of loyalty to family.
Patrick is survived by his mother, Mary (Yannucci) Felice, (formerly of Vienna) and now of Sarver, Pa; his former wife, Joanne Vennetti of Pittsburgh; his wife, Victoria Carver-Vennetti of Franklin; stepson, Shawn (Kimberly) Carver of Indianapolis; stepdaughters, Diana (Randy Vculek) Carver of Neenah, Wis.; Billi Jo Carver of Franklin; step granddaughters, Ainsley and Rowan Carver of Indianapolis; and numerous cousins in Ohio and Pennsylvania.
Calling hours will be Friday, June 8, 2012, from 5 to 7 p.m. and Saturday, June 9, 2012, from 10:30 to 11 a.m. at the Peter Rossi & Son Memorial Chapel, 1884 North Road, NE, Warren, OH 44483.
Funeral services will be Saturday, June 9, 2012, at 11 a.m. at the funeral home with the Rev. Bernard Schmalzried officiating.
Burial will be at All Souls Cemetery, Cortland.
The family graciously requests that in lieu of flowers, donations be made to the Franklin Indiana Lions Club, P.O. Box 7, Franklin, IN 46131, which will be used for a memorial scholarship fund that is being established in Patrick's name.
Guestbook Entries
"We are sorry to learn of Pat's passing. We had great times together in the Army and afterwards. As the years have gone by, we have never forgotten Pat and the fun we all had together after the Army."
» Andy & Kay D'Urso on June 7, 2012
Sign the Guestbook
---