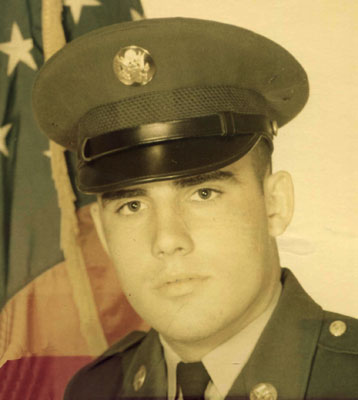 THOMAS WILLIAM ELLSMORE
YOUNGSTOWN – Thomas William Ellsmore, 60, died Tuesday, May 29, 2012, at his home following a brief illness.
Born Oct. 26, 1951, Tom was the son of the late Nelson William and Ethel (Mounts) Ellsmore.
A decorated veteran of the U.S. Army, Tom courageously served our country during the Vietnam War. After completing two tours of Vietnam, he received an honorable discharge for the U.S. Army in 1971.
Tom was a member of the VFW, Mahoning County Sheriff's Auxiliary under Sheriff Randall A. Wellington, and was an avid motorcyclist. He enjoyed and was a talented carpenter who was always tinkering with something and especially enjoyed restoring and fixing automobiles.
Tom is survived by his children, a daughter, Tonia; stepdaughter Shawna; two sons, Gerald and Thomas; two sisters, Janet and Gloria; a brother, Nelson; and nine grandchildren.
He was preceded in death by his parents and his wife, Karen (Cupp) Ellsmore.
Family and friends will be welcomed for visitation on Saturday, June 2, 2012, at the Higgins-Reardon Funeral Homes, Austintown Chapel, from 5 to 7 p.m. Full military honors will be observed concluding the visitation at 7 p.m. at the funeral home.
According to Tom's wishes, cremation will take place.
Material contributions may be made in Tom's memory to his family.
Guestbook Entries
"Tom you were a good man RIP old friend"
» Lee Lydic on June 1, 2012
"Nelson - Fred and I send our sympathies to you and your family. So sorry for your loss Tom was a good man. Fred and Missy Reebel"
» Missy and Fred Reebel on June 1, 2012
Friends
"Tom and I had a lot of laughs over the years and we will miss him dearly.Remembering Datona Beach on 7/7/77 he was right life is short have fun. "
» John & Cathy Tillinger on June 1, 2012
"My thoughts and prayers are with The Ellsmore Family in the loss of Tom...I will always remember him for all the great times and laughs that we shared during family gatherings throughout the years. May he now R.I.P. with no more pain or suffering."
» Mary Marhefky on June 2, 2012
Sign the Guestbook
---