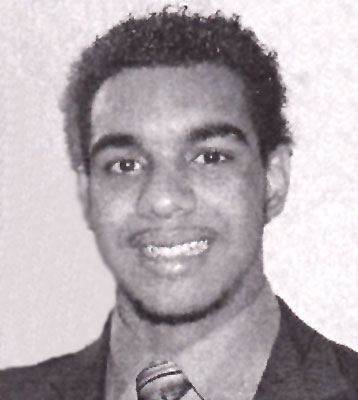 BRUCE LAVON BANKS
YOUNGSTOWN – A memorial service will be at 10 a.m. Saturday at the F.D. Mason Memorial Funeral Home for Bruce LaVon Banks, 17, who departed this life Saturday, July 7, 2012.
Mr. Banks was born July 12, 1994, in Youngstown, a son of Louis and Rebecca A. Ramirez Banks.
He played football and basketball and was active in the SMART Program. He attended East High School.
He leaves his parents of Youngstown; a brother, Brett L. Banks; grandparents Izella, all of Youngstown, Carolyn Ramirez of Campbell and Tina Ramirez of Warren; aunts Michelle (David) Ramirez, Clate (Andrew) Banks and Pearl (Gene) Giddens, all of Youngstown; uncles Jared Ramirez of Girard and Ernest Banks of Youngstown; and a host of other relatives and friends.
He was preceded in death by his grandparents, Willie Banks and Joseph Ramirez.
Guestbook Entries
Private Pain
"no one can ever know the private hurt you endure in losing your son Rebecca, but my heart empathizes as best I can. My you guard that place in your heart where he always lives. "
» Kimberly York on October 27, 2017
"To Rebecca and family my thoughts are with you today as you go threw today if you need anything please contact me love you Tina C."
» Tina Cvetkovich on July 14, 2012
"REBBECA AND FAMILY YOY WILL BE IN MY THOUGHTS AND PRAYERS THIS IS NOT EASY, HE LIFE WAS JUST STARING. IF YOU NEED ANY THING CALL MEIN SECURITY AT THE BOOTH IN EMERGENCY. SINCERELY BECKY PRELEE "
» BECKY PRELEE on July 13, 2012
Victims Advocate
"Bruce was one special young man. He had such a beautiful smile, and loved to make people laugh. He was warm, soft spoken and very kind. You will be missed. Lord strengthen his family through this time of sorrow. Love you Bruce"
» Brenda on July 13, 2012
"I love & miss you dearly"
» alexis hall on July 13, 2012
"Bruce you will be truly missed but will always be here with us....my deepest heartfelt condolences to Rebecca, Brett and Louis."
» Maria on July 13, 2012
"In a blink of an eye All was at peace Life without end Tears that will cease Unity Love Fears cast aside Wolf and Lamb As one Will reside A mere young boy Innocent as can be Will lead them all For eternity Old will be made young Skin fresh and new Death no more Will haunt me and you As the dead open their eyes To a peaceful new shore Clean and serene The earth will be Forever more As we stand before Jehovah A happy people We shall be Though we've struggled Through trials Tribulations Persecutions And greed He's pulled us through In our greatest Time's of need Now as one We all reside In this peaceful New world Called a Paradise. Take comfort in knowing that we WILL see Bruce again as long as we keep a strong relationship with Jehovah. With Deepest Sympathy, The Hood Family"
» The Hood Family on July 13, 2012
"Rebecca,Brett,and Louis, The Lord acquired another Angel to watch over us as we walk through our jouney of life. He is there always cheering us on with his sweet presence. May God's Love surround you. constantly. With Love and Prayers, Charlie and Maggi"
» Maggi G on July 14, 2012
"Lou, Becky, Brett and family, I grieve with you; can truly say I know how you feel. But I also know and pray that Jehovah will give you the strength to carry on in this system of things until the time comes when our dead loved ones will hear the call from Jesus to come out. And you will be there to welcome Bruce with open arms. May Jehovah, the God of All Comfort, be constantly with you. Isa. 41: 10, 13."
» Penny McClintock on July 14, 2012
Sign the Guestbook
---