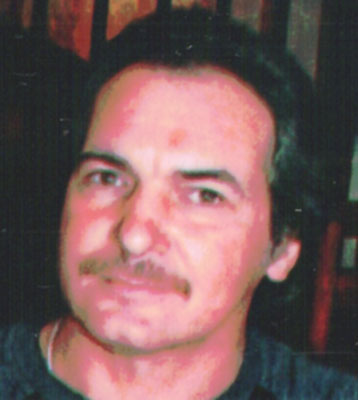 NATALE 'NATE' RUCCI
CANFIELD – Natale "Nate" Rucci, 46, passed away from a heart attack on Tuesday, July 3, 2012, in Canfield, at his residence.
Nate was born Dec. 23, 1965 in Sepino, Italy, to Vittorio and Ilda (Zeoli) Rucci.
He was an owner/operator of A-1 Masonry. He was an avid drummer, enjoyed fishing, music, tools and fixing and repairing items.
Natale's family includes, his mother, Ilda Rucci of Boardman; father Vittorio Rucci of Canfield, with whom he made his home; two surviving sons, Victor and Margarett Rucci of Columbus and Vince Korting of Newport Richey, Fla.; one surviving brother, Sebastian and Linda Rucci of Poland; two surviving sisters, Marge and Paul Nelson of Mineral Ridge and Cristina and Domenico D'Angona of Canfield; a companion of many years, Lisa Kay Korting; and 11 nieces and nephews.
Natale "Nate" Rucci was preceded in death by his brother, Fabio N. Rucci.
Calling hours will be Monday, July 9, 2012, from 4 to 7 p.m. at Fabrizio Funeral Home, 619 E. Indianola Ave. in Youngstown.
Funeral service will be at Fabrizio Funeral Home on Tuesday at 10 a.m.
Guestbook Entries
"Natale you will forever be in my Heart. You always told me nothing lasts forever, but my memories of you will last a lifetime. I miss you already. Love Always."
» Kimberly Engle Runge on July 8, 2012
Sympathy
"We would like to offer our deepest sympathy to your entire family at this time. Natale was like a brother to all of us "Direnzo's" and we genuinely loved him and will miss him very much.. Tony Direnzo and Joseph, Booboo Kevin"
» Lisa & Anthony Direnzo on July 8, 2012
"God bless"
» REBECCA TUCHEK on July 8, 2012
"dad you will always be with me every where i am everywhere i skate ,i love you dad.yr 4ever with me"
» vince on July 8, 2012
"My sympathy to your family. I have many fond memories of poplar street and Brier Hill and your family. My condolences."
» Rex "Buddy" Bohrer on July 9, 2012
goodbye
"sometymes when id wake up in the morning id see you sleeping so peacefuly id sit and watch you there so warm and tender look just as good as the day you looked my way and it hurts me ta know ill be letten you go to chase a different dream,i remember the frist tyme i saw you there was something special in your eyes yes its true ya got my heart and soul but your leaven and my lonley heart cries nothin i can do or say change your mind in anyway all i can say is goodbye so GOODBYE thoe i dont want ya ta go some how i know this aint the end so good bye but tally not forever cause well be togeather again..goodbye baby."
» leesa on July 9, 2012
"So sorry for your loss. I will keep you in my prayers."
» Michelle Ebel on July 9, 2012
We Will Meet Again
"We used to hang out you,Fabe and me almost every weekend. The five hour drive knowing I was going to be with you both made it seem like an hour .I Miss those days and I miss you very much. We all 3 of us will be hanging out again one day.....My sympathy and condolence to my family IN Ohio I love you all "
» Mario Rucci- Toronto Canada on July 11, 2012
"sorry for your loss Nate was good man and everytime I pick up my guitar I think of him I believe he would have dedicated this song to everyone Don't remember where I was When I realized life was a game The more seriously I took things The harder the rules became I had no idea what it'd cost My life passed before my eyes I found out how little I accomplished All my plans denied So as you read this, know my friends I'd love to stay with you all Please smile when you think of me My body's gone, that's all À tout le monde (To all the world) À tous mes amis (To all my friends) Je vous aime (I love you) Je dois partir (I have to leave) These are the last words I'll ever speak And they'll set me free If my heart was still alive I know it would surely break And my memories left with you There's nothing more to say Moving on is a simple thing What it leaves behind is hard You know the sleeping feel no more pain And the living are scarred À tout le monde (To all the world) À tous mes amis (To all my friends) Je vous aime (I love you) Je dois partir (I have to leave) These are the last words I'll ever speak And they'll set me free So as you read this know my friends I'd love to stay with you all Please, smile, smile when you think about me My body's gone that's all À tout le monde (To all the world) À tous mes amis (To all my friends) Je vous aime (I love you) Je dois partir (I have to leave) These are the last words I'll ever speak And they'll set me free À tout le monde (To all the world) À tous mes amis (To all my friends) Je vous aime (I love you) Je dois partir (I have to leave) These are the last words I'll ever speak And they'll set me free"
» jim higham on January 31, 2014
Sign the Guestbook
---