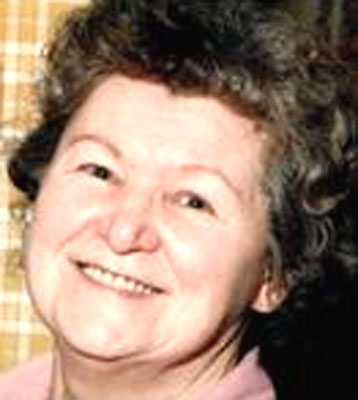 ELIZABETH D. (BETTY) LIPTAK
STRUTHERS – Services will be on Monday, July 9, 2012, at 10 a.m. at the Kirila Funeral Home, Inc. and at 10:30 a.m. at the Christ our Savior Parish, Holy Trinity Church for Elizabeth D. (Betty) Liptak, 98, who passed away peacefully Wednesday, July 4, 2012, at her home.
She was born Dec. 24, 1913, in Donora, Pa., daughter of the late John and Mary Yuhasz Rivalsky.
Betty moved to Struthers in 1924. She married her husband, Stephen L. Liptak on Sept. 8, 1937, and he died Aug. 19, 1962.
She was a member of the Christ our Savior Parish, St. Nicholas Church and its Altar Rosary Society.
Betty retired as a Seamstress for Weatherbee Coats in August of 1979. She was active in the Campbell Senior Citizens and the Democratic Party. She loved to cook, sew, be in her garden and most especially, dancing.
She is survived by her sons, Lawrence (Nancy) Liptak of Coitsville and Stephen (Deborah) Liptak of Boardman; her daughter-in-law, JoAnne Liptak of Niles; brothers, Edward J. Rivalsky of Struthers and Albert Rivalsky of Campbell; nine grandchildren, Troy (Nina) Liptak, Tomi (Domenic) Cardinale, Tracy Liptak-Cantelmo, Tristan (Nicole) Liptak, Heather Liptak, George (Jonelle) Liptak, Christopher (Tracie) Liptak, Stephanie and Matthew Liptak; eleven great-grandchildren; and one great-great-grandchild..
In addition to her parents and husband, Betty was preceded in death by a son, Thomas Liptak; sisters, Katherine Simon, Mary Kopkash and Ann Hrina; and brothers, Charles, John and Paul Rivalsky.
Visiting hours will be on Sunday, July 8, 2012, from 5 to 8 p.m. at the Kirila Funeral Home, Inc., 258 Poland Ave. in Struthers. Burial will follow at St. John Cemetery.
Betty will be remembered as a loving mother, grandmother, great-grandmother and great-great-grandmother and for her strong will and her joyful laughter.
Guestbook Entries
"My sincerest sympathy to you at this time of your loss."
» Helen Liebgott on July 7, 2012
Sign the Guestbook
---