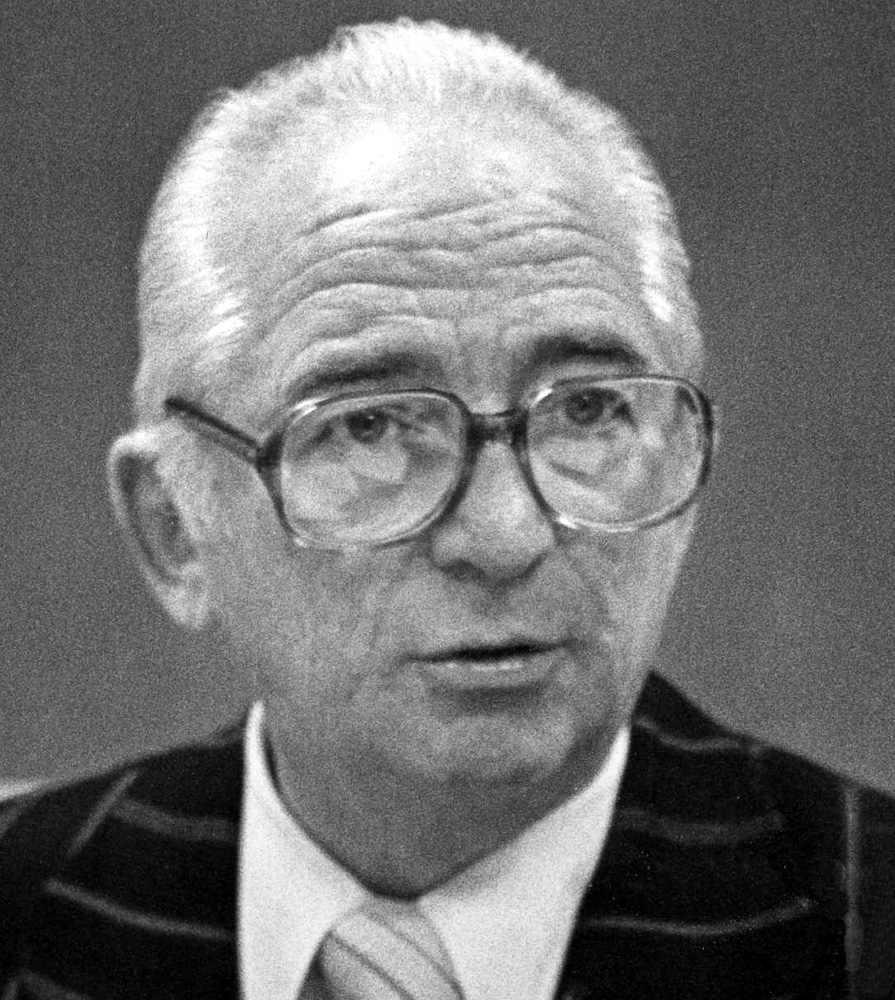 THOMAS P. GILMARTIN
YOUNGSTOWN – Prayers will begin Saturday morning at 9 a.m. at the Higgins-Reardon Funeral Home, Austintown Chapel followed by a Mass of Christian Burial celebrated at 9:30 a.m. at St. Columba Cathedral for Thomas P. Gilmartin, 87, who died Wednesday at Omni Manor Care Center.
Tom was born Dec. 10, 1924, in Youngstown, the son of James and Catherine Rice Gilmartin.
After serving his country in the Navy during World War II Tom earned his Bachelors Degree in Education from Youngstown College. He later earned a Doctorate of Chiropractic from the Palmer College of Chiropractic. Mr. Gilmartin using his trademark campaign slogan "Keep Smiling" and passing out Forget me not and Merigold seeds was elected to numerous terms as a State Representative. He served 26 years in the Ohio legislator, retiring in 1989. Among his many accomplishments he was very proud of his sponsorship of the Homestead Exemtion Act, and Agency Rule Review, and increasing educational opportunities for the mentally disadvantaged.
He had been a member of St. Joseph Church, the Saxon Club, Maennerchor Club, VFW, Gaelic Society, and Catholic War Vets. He had been active in the Victorian Players and the over 60 program at Youngstown State University. Tom also loved to travel visiting countries all over the world. He especially enjoyed his many visits to Ireland.
Mr. Gilmartin was also a writer and had been published numerous times. Among his writings are his first book "Journal and Verse" and his second book "Back to Basics" which served as the inspiration for his weekly poetry radio and television program Back to Basics.
His wife, the former Margaret G. Atsberger, whom he married Aug. 23, 1950 died Oct. 24, 1997.
He is survived by his two sons, Thomas P. Gilmartin Jr. and Brendan J. Gilmartin, both of Youngstown; a sister, Catherine Coyle of Youngstown; and two grandchildren, Brian and Brendan A. Gilmartin.
Besides his wife and parents, he was preceded in death by two brothers, James and Atty. Vincent Gilmartin; and his good friend poetry editor and coproducer of the Back to Basic program, Betty Repko.
Friends may call today from 5 to 7 p.m. at the Higgins-Reardon Funeral Home, Austintown Chapel.
The family has requested that material tributes take the form of donations to the St. Vincent dePaul Society in Mr. Gilmartin's memory.
Guestbook Entries
Mayor
"I will hold your family in my heart and prayers. "Tom" was a wonderful man. He was always so kind and thoughtful, when you spoke with him he made you feel like the most improtant person in the room. He walked with kings yet kept the common touch. Much love to all, the Good Lord will take good care of your dad."
» george mckelvey on January 20, 2012
"i worked with tom for therapy. he was my favorite patient and i always looked forward to seeing him. his smile and eyes would light up the room. i sure will miss you tom. love you and rest in peace"
» bridget connolly on January 20, 2012
"Brendan, your father always had a smile on his face and wit on his tongue. He knew how to "keep moving". Pam and Tom DQ"
» pamdelli on January 20, 2012
STNA
"Your father was an amazing man. His spirit was breath taking. I told him he had to get better so he could take me ballroom dancing. He would smile and roll his eyes. He was very loved by us as we took care of him.I know he will watch down on us making sure we are always smiling. Thank you for letting him be a part of our lives. He will be missed as well as your family."
» Stacey on January 20, 2012
Mr.
"Brendan Gilmartin do you remember me? We went to Rio Grande College together in 1978. Thanks for Everything. I met your Father and mother they were very nice to a small African Student. May their souls rest in Perfect Peace. Ameen. As the slogan goes Keep Smiling c46w"
» Abubakar Sani Stores on November 13, 2013
Sign the Guestbook
---