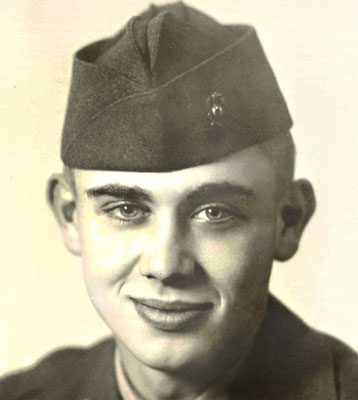 JAMES E. 'JIM' STELTS
LEETONIA – James E. "Jim" Stelts, 81, of 3997 Leetonia Road, died at 4 p.m. Friday, Dec. 28, 2012, at his home.
Born on Nov. 24, 1931, Jim was the son of Charles L. and Ersol (Halverstadt) Stelts, and lived in the Leetonia area all his life.
He graduated from Leetonia High School in summer of 1949 and was a member of the 1947 Class B State Championship football team his junior year.
Jim enlisted in the U.S. Marine Corps in 1952 and served with the infantry operating the Browning Automatic Rifle (BAR) as member of his four-man Fire Team with Dog Co., 7th Marines in Korea. He received the Purple Heart Medal and the Purple Heart Gold Star for combat injuries suffered on hills Carson and Reno in 1953. He also received the Navy Occupation, Korean, United Nations and National Defense Service Medals while reaching the rank of corporal before his honorable discharge in January of 1954. He later joined the Tri-State Korean War Veterans Chapter 126 where he served as president for eight years.
Jim graduated from Youngstown State College in 1966 with a BA in Business Administration and a minor in Economics while working at Eljer Corp. in Salem. During his 43-year career with Eljers, he worked his way from foundry laborer to plant superintendent, eventually retiring in April of 1991. He also was a Master Mason with Leetonia Lodge No. 401 and a member of the Leetonia Ruritan Club.
He was a life-long member of the St. Paul Lutheran Church where he served as a Sunday School Superintendent with the Service Men's Class. He was elected to two terms as a Salem Township Trustee and also served as president of the Columbiana County Trustees Association. He also was elected to one term on the Leetonia Schools Board of Education.
He enjoyed SCUBA diving, becoming a master diver in 1983. He also enjoyed fishing, boating, clamming and crabbing during his numerous trips to Chincoteague Island in Virginia. He was an avid outdoors man who enjoyed gardening and was a member of the Ohio Giant Pumpkin Growers Association. He also was an avid reader, especially of military and American history, and was devoutly committed to his family and grandchildren.
Jim is survived by his wife, the former Dorothy Buckley, whom he married March 2, 1956. He also is survived by his brother, Philip (Beth) Stelts of Center Valley, Pa., and three sons, Thomas (Tanya) Stelts of Salem, David (Carol) Stelts of Edinburg, Pa., and Richard (Melanie) Stelts of Leetonia. He also has three surviving grandchildren, Matthew (Angela) Stelts of Cleveland, Kaitlyn Stelts of Salem, and Nathan Stelts of Leetonia.
He was preceded in death by his parents and his sister, Nancy (Stelts) Tsipis.
Funeral services will be held at 11 a.m. Thursday, Jan. 3, 2013, at St. Paul's Lutheran Church, Leetonia, with Pastor Kari Lankford officiating. Burial will follow in the Oakdale Cemetery.
Friends may call at the Woods-Rettig Funeral Home, Leetonia, from 3 to 7 p.m. on Wednesday and at the church one hour prior to the services.
Leetonia Lodge No. 401 F.&A.M. will conduct Masonic services at 7 p.m. Wednesday at the funeral home.
Memorial tributes may be made to the St. Paul's Brick Fund at 29 Spruce St., P.O. Box 167, Leetonia, OH 44431.
Please visit www.familycareservices.com to sign the register and send condolences.
Guestbook Entries
« Be the first to sign JAMES E. 'JIM' STELTS guestbook.
---