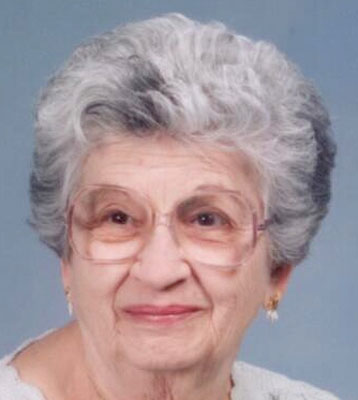 ANN M. ROVDER R.N
ARLINGTON, VA. – Funeral services will be held on Saturday at 9:30 a.m. at the Wasko Funeral Home and at 10 a.m. at Christ Our Savior Parish at Holy Trinity Catholic Church in Struthers, for Ann M. Rovder, R.N., 94.
Ann Magdalene Muretic Rovder, R.N., formerly of Youngstown, passed away peacefully in the presence of her family, after receiving the sacraments on Friday, Dec. 7, 2012, at her home in Arlington, where she had lived since 2010.
She was born in East Youngstown on Nov. 23, 1918, the youngest of 11 children of the late Michael Muretic and Francis Verbanec Muretic.
Ann attended public schools in Campbell, graduating in 1937 from Campbell Memorial High School, where she was a member of the National Honor Society. Growing up in the Great Depression instilled in her an appreciation of the importance of hard work, family, neighbors and friends, values that she passed on to her children.
Following in the footsteps of her elder sisters, Frances and Mary, Ann enrolled in Nurses' Training at Saint Francis Hospital in Pittsburgh, from where she graduated in 1940. Ann and all of her classmates in the class of 1940 passed the Pennsylvania State Board Examination on their first try, becoming Registered Nurses.
On May 16, 1942, Ann married George Stephen Rovder, the love of her life, whom she had met in high school algebra class.
During his deployment in the European Theater in World War II, Ann worked as a private duty nurse, caring for patients in the Youngstown Hospitals. She was one of the first Registered Nurses to administer penicillin in Youngstown when it became available for civilian use, and would recall the very strict protocols that had to be observed in using this new drug. After taking a break from nursing to start a family, Ann returned to work at Saint Elizabeth Hospital, where she worked the night shift for 20 years, retiring in 1980. In retirement, Ann continued to provide care for family, neighbors, and friends in need. She was the caregiver for her husband, George, during his two-year terminal illness. George died on Jan. 20, 1984.
Ann enjoyed meeting people of different cultures during her many travels abroad. Among the countries she visited were Ghana, Czechoslovakia, Canada, Australia, Pakistan, India, Nepal, Thailand and Belgium. She made many trips to Paris.
Ann was a member of the Holy Trinity Church in Struthers and its Infant Jesus of Prague Guild for more than 50 years, where she volunteered weekly with fellow church members making pirohy. She was also a member and past officer of the Youngstown Council of Catholic Nurses, and a member of the Campbell Senior Citizens Club. She was much appreciated by her fellow seniors for looking after their health and taking their blood pressures at monthly meetings, for which she was recognized with a certificate of Appreciation by the Ohio District XI Area Agency of Aging.
Preceding her in death, in addition to her parents, Michael and Frances Muretic, were her husband, George Stephen Rovder; brothers Stephen, George (Farmer), Anthony (Pat) and Matthew (Red); sisters Antonia Verbnac, Frances Gillen, and Mary Mlinarcik; and three siblings who died in infancy.
She is survived by her daughter and son-in-law, Rita and William Lesniak; son and son-in-law George Rovder and Andre Provencher, with whom she made her home; grandson Stephen Richard Lesniak; and granddaughter Amber Rose Lesniak. Her memory as family matriarch is also cherished by many nieces and nephews and their spouses, children and grandchildren.
Visitation will be held on Friday, Dec. 14, from 4 to 7 p.m. and Saturday, Dec. 15, from 8:30 to 9:30 a.m. at the Wasko Funeral Home in Campbell, with internment at St. John's Cemetery in Lowellville.
In lieu of flowers, monetary donations may be made in Ann's name to the charity of their choice.
Visit www.waskofamily.com to view this obituary and send the Rovder family condolences.
Guestbook Entries
"Dear George, Andre, Rita and family, I will remember your Mom as a devoted, loving mother, wife and nurse. She made the world a better place. Celebrate her life and know that your friends are thinking of you. May she rest in peace."
» Elaine Pochiro on December 13, 2012
"We are honored to have known Ann. She was an inspiration and a truly lovely person. Our thoughts and prayers are with you."
» Caroline and Mark on December 13, 2012
Niece
"Dear George,Andre,Rita and family. I always remember Aunt Ann. Summertime mini vacations at your house. Especially when I made a trip to youngstown years ago and stayed with Aunt Ann. We would sit on the porch and eat our tomato sandwiches. I always had a great time with Aunt Ann. I will miss talking to her on the phone. I know she is in a better place and happy. My prayers and thoughts are with you George and Andre and Rita and family. Love, Genie December 13,2012"
» Genie on December 13, 2012
"Dear George and Andre, our deepest sympathy and respect for your loss. You and the Rovder family are in our prayers. God Bless."
» Dean and Luisa Mariani on December 14, 2012
"Dear George and Andre, I am writing ro extend my deepest sympathies to you and Andre and family. I was so vey sad to hear about your mother she was such a wonderful lady. I cherished the time I spent with her. May she rest in peace. Grace & Tony Mariani on December 14, 2014"
» Grace & Tony Mariani on December 14, 2012
"Dear George and Andre, I'm so sorry to learn that your dear mom has passed. I'm so happy I had the pleasure of meeting her almost two years ago and having her present in my home. Not only that I admire your admiration, gentelness and commitment to your mom in caring for her over the past few years. A bond between a mother and son is very special and when I saw you together it showed how much you truly loved her. We hope to see you both soon in the new year. Our thoughts are with you! Love Marina, Eric and kids"
» Marina Nalli-Skelton on December 14, 2012
"Hello George & Andre: I am very sorry to hear of your mothers passing. I never had the pleasure to have met your mother, but I am sure she was a lovely lady and will be greatly missed. May she rest in peace. Patty Marinelli, "
» Patty Marineli on January 15, 2013
"Hello George & Andre: I am very sorry to hear of your mothers passing. I never had the pleasure to have met your mother, but I am sure she was a lovely lady and will be greatly missed. May she rest in peace. Patty Marinelli, "
» Patty Marineli on January 15, 2013
Sign the Guestbook
---