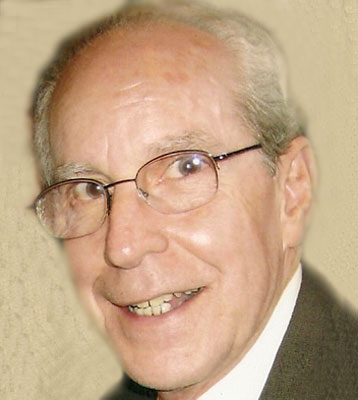 RICHARD E. 'DICK' DAVIES
AUSTINTOWN – Funeral services will be held at 11 a.m. on Monday, Dec. 10, 2012, at the Lane Family Funeral Homes, Canfield Chapel, for Richard E "Dick" Davies, 73, who went to be with the Lord on Thursday, Dec. 6, 2012, surrounded by family.
Dick was born Aug. 12, 1939, in Boardman, the son of  the late Sydney and May Davies.
He was a 1957 graduate of Boardman High School and the University of Wisconsin, Graduate School of Banking.
He began his banking career immediately after high school graduation in the Mail Room of Mahoning National Bank. He was promoted to a variety of positions from Branch Manager to Retail Administration to Operations, before retiring Dec. 31, 1998 as Senior Vice President and Cashier of Mahoning National Bank and Secretary of the Board for Mahoning BancCorp.
He leaves behind his wife, the former Melinda "Mindy" Mincher, whom he married on July 1, 1994; his children, Kevin (Melody) of Broadview Heights and Kendra of Atlanta; and three grandsons, Spencer, Cade and Quentin, who adored their "Papa." He also leaves behind to cherish his memories, his brothers, Kenneth (Ivy) and James (Margaret) of Canfield, Douglas (Judy) of Kingston, Tenn. and William of Boardman and his loving nieces and nephews
Besides his parents, Richard was preceded in death by a sister, Audrey Fountain; and a brother, William Vaughan. 
Besides spending time with family, Dick was an avid Cleveland and Ohio State sports fan, golfer and enjoyed spending his vacations in Florida.
He was a member of the American Institute of Banking and a Board Member of Jubilee Christian Fellowship.
Friends may on Sunday, Dec. 9, from 5 to 7 p.m. at the Lane Family Funeral Homes, Canfield Chapel and for one hour prior to the services on Monday at the funeral home.
The family has asked that material contributions be to the Jubilee Christian Fellowship Building Fund, P.O. Box 862., Canfield, OH 44406.
Guestbook Entries
"Mindy, I am so sorry for your loss. You are in my thoughts and prayers"
» Jennifer Pisano Clark on December 10, 2012
Sign the Guestbook
---