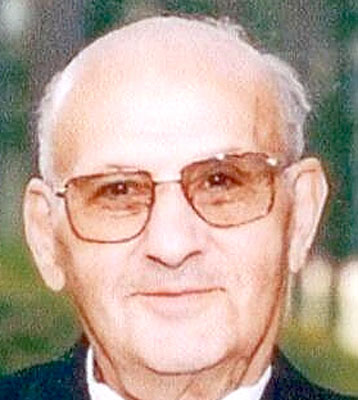 JAMES F. THOMAS
CAMPBELL – Funeral services will be held Monday at 9 a.m. at the Wasko Funeral Home and 9:30 a.m. at St. Angela Merici, formerly Sacred Heart Church, for James F. Thomas, 97, who passed away Thursday evening.
James was born Vincenzo DiTommasso on Feb. 18, 1915, in Campbell, the son of Domennico (Dominic Thomas) DiTommasso and Paola (Paula) DiDionisio DiTommasso, and was a life long city resident and a 1933 graduate of Campbell Memorial High School.
James was a member of the church, a former officer of the Holy Name Society and was active with the scout troop. He was a member of the Bugnarese Society.
James worked for the Pittsburgh & Lake Erie Railroad Company from 1936 to 1976, Youngstown Sheet and Tube Co. from 1950 to 1958, and was self employed as a contractor, providing transportation services for special needs children from 1933 to 1982. In 1982, James and his wife, Ann, founded Community Bus Services Inc.
His wife, the former Ann M. Marian, whom he married Aug. 16, 1941, passed away Sept. 11, 1995.
He leaves to cherish his memory, five sons, Robert (Jeanie) of Burnt Hills, N.Y., James Jr. (Liz) of San Diego, Richard (Mary) of Liberty, Russell (Phyllis) of Amherst, N.H., and Terrence (Lisa) of Boardman; his sister, Rose Matyze of Campbell; sister in-law Ester Pedaline of Youngstown; 16 grandchildren; seven great-grandchildren; and his good friend and caregiver, Gene Smith.
He was preceded in death by his parents; stepmother Camille DiPiero; his wife, Ann; brothers Anthony (Bumps), Carl and Christy Thomas; sisters Regina Centofanti Sliwinski, Pauline Nolfi, Edith Lamarc, and Nancy Falgiani, who was raised as his sister; grandsons, Andrew and Anthony Thomas; and his aunt and uncle, Concette and Louie Lacivita, with whom he lived after his mom's death in 1917.
In lieu of flowers, monetary donations can be made to St. Angela Merici Parish.
Jim's family would like to thank the staff of St. Mary's Alzheimer's Center for their care and compassion during the 14 months he was a resident.
The Thomas family has entrusted their loved one to the care of the Wasko Funeral Home and will receive friends Sunday from 3 to 6 p.m. at the funeral home.
Visit www.waskofamily.com to view this obituary and send the Thomas family condolences.
Guestbook Entries
San Jacinto, California
"I remember your parents working side by side with my parents, Jim (RIP 8/7/11) and Peg Sweeney(age 90) in the scouting program at Sacred Heart. They made a difference in many young men lives. Also all of the fairs/bazaars and spag dinners they worked together. They taught us well. May God bless your family during this difficult time. "
» Mary Sweeney Healey on December 8, 2012
Uncle Jimmy
"I have such great memories of my Uncle Jimmy, use to love it when my grandfather(Carl) would take me over to the house, he was such a sweet man and will be greatly missed. Sorry I could not be there for the family just know that you are all in my thoughts and prayers!"
» Mary Kay on December 9, 2012
"My Condolences to the Family -- I'm so sorry for your loss"
» Jerry Zoccali on December 10, 2012
Sign the Guestbook
---