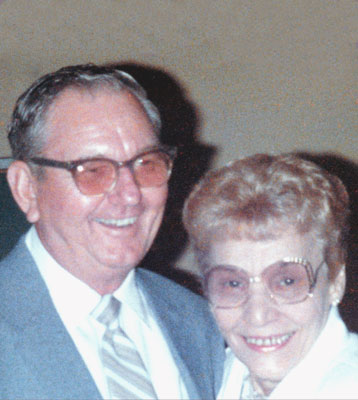 CLARENCE F. KOLLEY
"Together Again"
CORTLAND – Clarence F. Kolley, 94, passed away Monday, Dec. 3, 2012, at Lake Vista in Cortland.
Clarence was born June 9, 1918, in Cleveland, the son of Frank and Anna (Kubera) Kolley.
He was a graduate of Bloomfield High School and a veteran of World War II.
Clarence owned and operated his own home-improvement business for 55 years.
Clarence married Leone Thomas on Feb. 23, 1967. She passed away in September of 2008.
Clarence was an avid Cleveland Indians fan and enjoyed playing cards and attending various polka festivals. He served on the grounds committee for Lake Vista and was also a member of the choir. He was a charter member of the Lions Club in North Bloomfield and later transferred to the West Warren Lions Club.
He leaves behind a daughter, Donna (Don) Loomis of Lake Milton; stepsons Tom (Janice) Thomas of Mecca and Kenneth (Natalie) Thomas of Pleasant View, Tenn.; nine grandchildren and 19 great-grandchildren.
Along with his wife, Leone, a daughter, Gwenn Smith; grandsons Gregory Smith and Tommy L. Thomas Jr.; two brothers; and a sister preceded Clarence in death.
The family would like to express sincere thanks to the staff of the Lake Vista rehab facility for all their compassion and care shown to Clarence.
Calling hours will be 5 to 7 p.m. on Thursday and 10 to 11 a.m. on Friday with the funeral service to follow at 11 a.m. at Crown Hill Chapel Mausoleum in Vienna. Pastor Duane Jessie will officiate.
Entombment will take place at Crown Hill Burial Park.
The Selby Funeral Home handled the arrangements.
Guestbook Entries
« Be the first to sign CLARENCE F. KOLLEY guestbook.
---