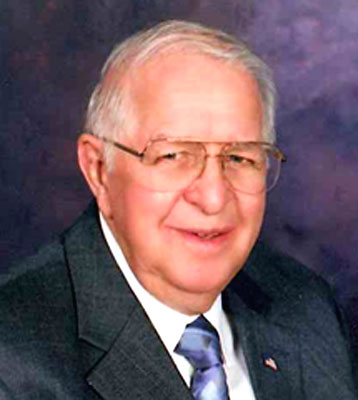 DAVID WALKER
BOARDMAN – Memorial services will be held at 11 a.m. Friday at the Davis-Becker Funeral Home for David Walker. He passed away Monday evening at St. Elizabeth Boardman Health Center.
Mr. Walker was born Dec. 9, 1928, in Boardman, a son of John William and Irene McLaughlin Walker.
He worked for Borden's Dairy, retiring after 30 years. He was also owner and real estate broker with Dave Walker Realty.
He was a member of the Board of Realtors and had served as Past President along with serving on various committees. He also taught real estate courses.
Dave was twice honored as being Realtor of the Year.
Surviving him is his wife, the former Betty Hazel, whom he married Oct. 21, 1950; a daughter, Kathy (Bill) Anderson of Richmond, Va.; and two sons, Bruce (Betty) Walker of Tampa, Fla. and Tim (Lynne) Walker of Boardman; a brother, Robert M. (Mona) Walker of Canfield; and six grandchildren, David, Rebecca, Colin, Meg, Ryan, and Kelsey.
Preceding him in death besides his parents are three sisters, Wilamine Marrotti, Jean Shaner and Mary Sheppard; and a brother, John W. Walker, Jr.
Friends may call Friday from 10 to 11 a.m. at the funeral home.
The family requests that material tributes take the form of contributions to the Boardman Baptist Church, Church Building Fund, 1207 Shields Road, Boardman, OH 44512.
Please visit www.beckerobits.com to send condolences.
Guestbook Entries
"So sorry for your loss."
» Rosemary Raver on August 29, 2012
"Our thoughts and prayers are with you and your family. God bless you all."
» Chuck & Mary Ann Ramsey on August 29, 2012
"We send our deepest sympathy to all of the Walker family. (from upstate New York)"
» Marge and Dave Comstock on August 29, 2012
"My sincere sympathies to you betty and all the family."
» Jim halls on August 29, 2012
"Bob and Tim. Sorry about your loss. I can't stop by as I am in Colorado. Blessings. Bill"
» Bill Barnes on August 29, 2012
"My deepest sympathies! Dave was a good and loyal friend....always there with a smile and an offer to help. I will deeply miss him!"
» Rick Firestone on August 30, 2012
"Tim, I'm sorry for your loss. He was a very good man. I always enjoyed seeing him @ the Newport Cafe. Wonderful guy."
» Jim Finnerty on August 31, 2012
"To the Walker family: I was so sorry to hear of your loss. Dave was a wonderful man and a good Christian friend to my dad, Paul Johnson. They are together now watching over all of us."
» Karen James on August 31, 2012
Daniels-Head Insurance Agency
"We are sorry for your loss. We always enjoyed working with Dave! You will be in our thoughts and prayers."
» Jeanne Gardner on September 4, 2012
Sign the Guestbook
---