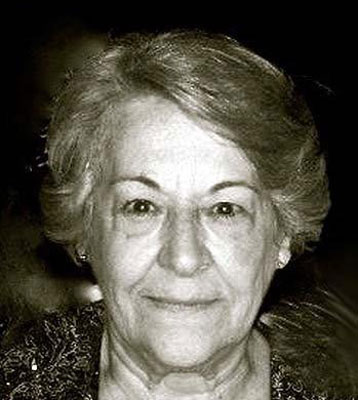 ANNABELLE BODNAR
COLUMBIANA – Annabelle Bodnar, 81, formerly of Youngstown and of Florida, passed away Tuesday afternoon, Aug. 21, 2012, at Hospice House.
Annabelle was born July 25, 1931, in Youngstown, a daughter of the late Falco and Anna Marie Isacco Tocco.
Mrs. Bodnar was a 1950 graduate of Chaney High School, was a homemaker, and also worked as a clerk for Strouss' Department Store.
Annabelle served two terms on the Youngstown Board of Education, and was a member of both Holy Name of Jesus Church in Youngstown and of St. Jude Church in Columbiana. She loved the ocean, enjoyed nature and shopping, and above all, she truly enjoyed the time she spent with her family, especially her grandchildren and great-grandchildren.
Annabelle lived in Youngstown until moving with her husband to Florida in 1989, and she returned with him to Ohio in 1996 when they moved to Columbiana.
Annabelle leaves her beloved husband of 60 years, Julius Bodnar, whom she married June 28, 1952; a son, Robert (Mary) Bodnar of Austintown; two daughters, Monica (Robert) Mook of Columbiana and Claudia (Greg) Korchnak of Fenton, Mich.; grandchildren, Danyell (William) Thomas, Robert (fiancé Michelle) Bodnar, Bonnie (Henry) Bodnar-Gomez, Joshua Bodnar, Gregory (Courtney) Korchnak, Abbey (fiancé Tim) Korchnak, Evan Korchnak, Jennifer (Jeffrey) Minehart, Robert (Erin) Mook, Elizabeth (Gary) Church, Seara Jane Mook, Andrew Mook, and Mike'al; and great-grandchildren, Jacob, Elle, Annabelle, Lauren, Matthew, Noah, Madison, Lilly, Mya, William, and Lucy; and Annabelle's special little friend, Seth.
Besides her parents, Annabelle was preceded in death by a brother, Nick Tocco; and five sisters, Ada Tocco, Betty Tocco, Frances Como, Viola Pupino, and Philomena M. Barricella.
Family and friends may call from 5 to 8 p.m. on Friday, Aug. 24, at Kinnick Funeral Home, 477 N. Meridian Road in Youngstown.
Funeral services will begin at 9 a.m. on Saturday at the funeral home, and continue at 9:30 a.m. at Holy Name of Jesus Church, 613 N. Lakeview Ave., Youngstown.
Interment will be at Calvary Cemetery in Youngstown.
Memorial contributions may be made in Annabelle's name to Hospice House, 9803 Sharrott Road, Poland, OH 44514.
Visit kinnickfuneralhome.com to view this obituary and to send condolences online to Mrs. Bodnar's family.
Guestbook Entries
"rest in peace,we will take care of your family"
» lynne mazzoleni on August 23, 2012
Sign the Guestbook
---