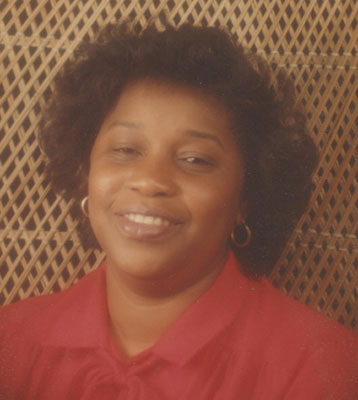 GLORIA CLARK
YOUNGSTOWN – Services will be at 11 a.m. on Friday, Aug. 10, 2012, at the L.E. Black, Phillips & Holden Funeral Home for Mrs. Gloria Clark, 64, who departed this life Thursday, Aug. 2, 2012, at Cleveland Clinic.
Mrs. Clark was born April 12, 1948, in Montgomery, Ala., a daughter of John Frank and Vera Elizabeth Taylor Jenkins.
She had worked as a machinist with Delphi Packard Electric and as a custodial aide with Youngstown City School, retiring in 2010. She was a graduate of The Rayen School and attended Youngstown State University. A devoted member of Jehovah's Witness Central Congregation, Gloria enjoyed shopping, cooking shows, her grandchildren, and was an avid reader.
She leaves to cherish her beloved memory, her husband, Carey, whom she married June 11, 1970; a son, Kevin (Altina) Clark of Austintown; four daughters, Erika Bunch, Tamiko Clark and Talisa Casey, all of Youngstown, and Tracy Clark of Austintown; a brother, Frank Jarrett of Youngstown; 14 grandchildren; three great-grandchildren; and a host of loving family and friends.
Besides her parents, she was preceded in death by a son-in-law, Arlis R. Casey Sr.
Friends may call Friday from 10 to 11 a.m. at the funeral home
Guestbook Entries
"Frank, Philip and I are so sorry about Gloria's passing. We will keep you in our prayers. "
» Catherine (Brewer) Hodge on August 9, 2012
daughter
"I love an miss u so much mommy! "
» talisa cassy on August 9, 2012
family friend
"you are missed Ms.Glo..."
» Lonnie on August 9, 2012
Rayen classmate
"I am saddened by the news of Gloria's passing but I know that the souls of the just are in the hands of the Lord and no torment shall touch them. My condolence to the family and friends Gloria leaves behind. I smile when I recall our teen days at Rayen and remember her with love, respect, and admiration. Go with God my friend."
» Madelyn Cousin-Johnson on August 9, 2012
"I fondly remember Gloria from our school days at The Rayen School. She always had such a warm smile.May God bless Your Family during this difficult time."
» Ruth [Penny] Yancey on August 9, 2012
With Heartfelt Sympathy
"Though there are no words to ease your pain, remember that Gloria is now in Jehovah's Memory,and have faith in knowing that we all can see her again ONLY if we take in knowledge of the only true God,Jehovah and of the one whom he sent forth, Jesus Christ. (John 17:3) Our deepest sympathy to the Clark Family"
» The Hood Family on August 10, 2012
"I sorry to hear Gloria has passed. I just want to send my prayers and thoughts to all of the family. "
» Cheryl Gayles on August 9, 2012
"TALISA AND FAMILY, IM SO SORRY TO HEAR ABOUT YOUR MOM. SHE WAS A SWEET LADY AND WILL BE MISSED DEARLY, MY THOUGHS AND PRAYERS GO OUT TO YOU AND YOUR FAMILY!"
» KRISTINA CAPPITTE KIMBROUGH on August 10, 2012
God Bless you Cousin Gloria
"Cousin Glo you will be deeply missed ! R.I.P ! To the family you are in my prayer's from the Adams family!"
» Family on August 10, 2012
Cousin
"I will always keep your heart and smile alive within me. You have touched the life of myself and that of my girls tremendously..."
» Barbara on August 10, 2012
Friend
"My thoughts and prayers are with you. "
» Andrea Barganier-Beard on August 10, 2012
lisa
"I appreciate all og u, thank u, this is so hard, she touched so many lives especially mine, she was the best mom.ever"
» Talisa Casey on November 6, 2012
Sign the Guestbook
---