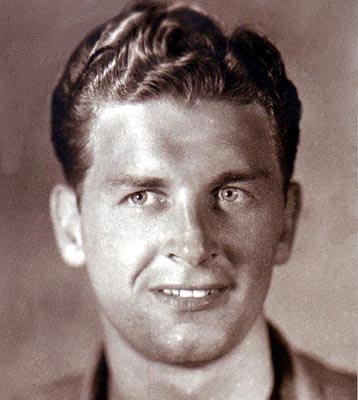 NICHOLAS HALADAY
BOARDMAN – Nicholas Haladay, 92, passed away Easter Sunday, April 8, 2012, at Beeghly Oaks, following a brief illness.
Nicholas was born Oct. 5, 1919, in Youngstown, a son of the late Nicholas and Mary Garan Haladay, was a 1939 graduate of East High School and was a lifelong area resident.
As a young man, Nick was an usher at the Palace Theater and shared many stories about the celebrity performers, like his friend, Dick Powell.
During World War II, he served in the U.S. Army with intelligence and ordnance before being stationed in the European Theatre, where he served in the Third Army for 42 months. Mr. Haladay was awarded five battle stars for his service to his country.
Nick was a pioneer in the Valley as a storm window manufacturer, owning and operating Warren Aluminum Products for over 25 years. He began his career with Graef Storm Window Company before World War II and retired as a sales manager for Kessler Products in 1989. Subsequently, he worked part time as a sales rep for Boston Metals in Youngstown from 1989 to 1991.
Mr. Haladay was a founding and active member of St. Christine Church in Youngstown, and was a member of the parish golf and bowling leagues. He was also a member of the Father Gallagher Council, 4th Degree Knights of Columbus. Nick also enjoyed fishing, cheering for the New York Yankees and Cleveland Browns, and spending time with his family and friends.
Nicholas is survived by his wife of 65 years, Elsie Dolak Haladay, whom he married June 19, 1946; his daughter, Linda Haladay (William) McDonough of Glenview, Ill.; his son, David (Janet) Haladay of Boardman; three grandchildren, Amy McDonough, Brendan (Gina) McDonough, and Ashley Haladay; three great-grandchildren, Brady, Elizabeth, and Molly McDonough; and two brothers, George (Lois) Haladay of San Gabriel, Calif. and Donald (Dolly) Haladay of Boardman.
Three sisters, Mary Haladay Gordon, Martha Haladay, and Peggy Haladay, and two brothers, Thomas Haladay and Raymond Haladay, preceded him in death.
Friends and family may call from 4 to 6 p.m. on Wednesday, April 11, at Kinnick Funeral Home, 477 N. Meridian Road, Youngstown.
Funeral services will begin at 9:15 a.m. on Thursday at the funeral home, and will continue at 10 a.m. at St. Christine Church.
Memorial contributions may be made in Nick's name to St. Christine Church, 3165 South Schenley Ave., Youngstown, OH 44511, or to the Juvenile Diabetes Research Foundation, through www.jdrf.org.
Visit kinnickfuneralhome.com to view this obituary and to send condolences online to Nick's family.
Guestbook Entries
Friend
"Great person, you had to love Nick. "
» Bob Reeder on April 10, 2012
"Sending prayers to all in the family at this time. May God bless and keep you."
» Barbara Voss on April 10, 2012
"Sending prayers to all the family. He will be truly missed. Love you Uncle Nick."
» Lisa Zomoida-Long on April 16, 2012
Sign the Guestbook
---