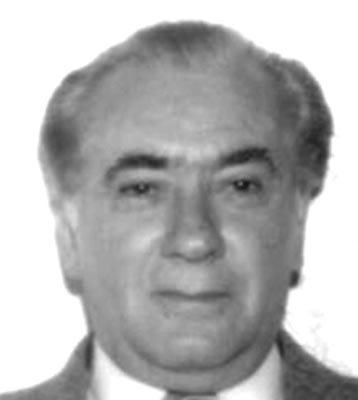 SPIROS TSAGARIS
CAMPBELL – Funeral services will be held at 10 a.m. Monday at the Archangel Michael Greek Orthodox Church for Spiros Tsagaris, 84, who passed away Thursday afternoon.
Spiros was born Jan. 1, 1927, in Kalymnos, Greece, the son of Elias and Sevasti Grias Tsagaris, and was raised by his maternal grandmother, Maria, after his mother's death.
Spiros quit school at a young age to help support his family. He made taffy and other candies which he would sell from village to village.
He came to America in 1949, having first arrived in St. Augustine, Fla., he then went to New York City and eventually came to Campbell in 1951, where he worked at Youngstown Sheet and Tube Co., Seamless Plant until his retirement.
Spiros was very proud to be an American citizen, and made sure he voted in every election. He enjoyed his family and working around his house.
He was a member of the church and the Kalymian Men's Society.
His wife, the former Nomiki Maillis, whom he married Aug. 15, 1953, passed away March 7, 1996.
He will be deeply missed by his four children, Sylvia Perantinides, Mary (Doug) Gabriel, Louie (Susan) Tsagaris and Michael (Tina) Tsagaris; eight grandchildren, Nomiki (Michael) Tsarnas, Harriet Perantinides, Nick Patzakis, Evangela (Theo) Hazimihalis, George Patzakis, Spiro Tsagaris, Leah Tsagaris and Nomiki Tsagaris; five great-grandchildren, Maria, Sylvia and Anna Tsarnas and Yianni and Savva Hazimihalis; his current wife, Lyudmyla Timinova; and six brothers and sisters in Greece and Australia, Mihali, Zenovia, Pahos, John, Irene and Kosta.
He was preceded in death by his parents and his wife.
The Tsagaris family has entrusted their loved one to the care of the Wasko Funeral Home and will receive friends on Sunday evening from 5 to 8 p.m., with a 7:30 p.m. prayer service at the funeral home and on Monday morning from 9:30 to 10 a.m. at the church.
Visit www.waskofamily.com to view this obituary and send the Tsagaris family condolences.
Guestbook Entries
"My deepest Family to the family. May his soul rest in peace"
» Marcia on September 17, 2011
Mr. Tsagaris
"Louie and Michael, very sorry to read about the passing of your father..I remember hanging out in Campbell with all of you and the St. Lucy festival having fun..not sure if you remember us we were Lori Slagle cousins...you Father was a wonderful and very proud man..just wanted to say how sorry were are and we are sending our prayers to your family...living in Arizona now...old friends for life."
» Tammie Zoldak Sandrock on September 17, 2011
Sign the Guestbook
---