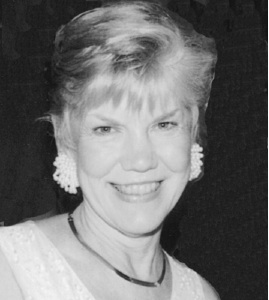 PEGGY ROBERTS REINHARDT
CANFIELD – Funeral services will be held on Saturday Sept. 3, 2011, at 11 a.m. at the Pleasant Grove Presbyterian Church, 3919 Southern Blvd., Youngstown, for Peggy Roberts Reinhardt, 66, who left her loved ones on Wednesday, Aug. 31, 2011, after a lengthy and courageous illness with diabetes.
She was born June 10, 1945, in Youngstown, the daughter of the late Walter Roberts and Sally (Thomas) Roberts Greenwood.
Peggy attended the Boardman Schools and graduated in 1963. She was proudly voted Prom Queen of her senior class.
While in school, she volunteered at Southside Hospital and helped out in the medical building at the Canfield Fair. In her younger days upon graduation, she worked for the late Dr. Alfred Mangie as a dental assistant. She was a real estate agent for Burgan Realty Company for 23 years and retired in 2009. During that time, Peggy was a member of the Board of Realtors Presidents Club for 18 consecutive years.
Peggy loved to sing and was an active member of the Youngstown Chapter of Sweet Adelines in which, she also sang in a barbershop quartet called "The Taper Tones." As a member of the Pleasant Grove Presbyterian Church she sang in the choir.
Along with her busy schedule, she was a part-time model for Two Girls Two, a ladies specialty shop.
Peggy is survived by her two sons, Jeffrey Reinhardt of Dallas and Kevin (fiancée Melissa) Reinhardt of Columbus; four grandchildren, Justin and Sydney Reinhardt of Texas and Jack and Lauren Reinhardt of Columbus; a sister, Carole (Paul) Gatchell of Poland; loving nieces, Debbie (Tom) Bierdeman and Paula (Jim) Marco; great-nephews Ryan Brandan and Zachary Bierdeman and Jimmy Marco; and great-niece Alexa Marco. Peggy also leaves her caring and devoted friend, Tom Krispli.
Friends may call Friday, Sept. 2, 2011, from 5 to 8 p.m. at the Thompson Funeral Home, 4221 Market St., Boardman and on Saturday from 10 to 11 a.m. at the church.
As an expression of sympathy, donations can be made out to the American Diabetes Association, 1815 West Market St., Suite 108, Akron, OH 44313, or to Pleasant Grove Presbyterian Church's Music Department, 3919 Southern Blvd., Youngstown, OH, 44512.
Peggy had many friends and everyone she knew was her "Best Friend." She was a very caring person, never failing to help anyone in need.
"Hey Peg, we shall miss you. With a song in your heart, keep smiling."
Guestbook Entries
"Peggy was a very special person. Always smiling and so caring."
» Mary Ann Pallante on September 1, 2011
"Peggy is the loving aunt of my best friend (since 1st grade) Debbie (Gatchell) Bierdeman, so Peggy was like my aunt too. She always had a smile & showed interest in how you were. She had a love of life & for all those she knew. Her happiness was infectious & when she walked into a room it burst with a splash of colors! Peggy brightened the room just by walking in it. She did all the things in life that other people wished they could do. She raised 2 wonderful boys, had careers she loved. She also loved the pets in her life that were happy to belong to her. Friends were plentiful. And I'm sure all of her real estate clients loved her & would only have Peggy as their realtor for life. I will always smile when I think of Peggy- she was like MY aunt too. We will miss her terribly."
» Debbie Gaydos Guido on September 1, 2011
"Our thoughts and prayers go out to Peggy's family. We knew Peggy from Pleasant Grove many years ago and then years later when she was a Realtor. I will always remember her kindness and beautiful smile. Blessings."
» Linda Robb and Family on September 1, 2011
"A very nice woman whom as a child always wore a smile. God Bless!"
» Fletcher Christie on September 1, 2011
"So many wonderful memories centered around Peggy. Met her as a young wife and mother thru my late husband Jim, who loved Peggy dearly. Wonderful times with our little ones (now all in their 40's)especially on group picnics, swims, and vacations. Peggy never allowed anyone to be left out, always making sure everyone knew each other at social events, assuring that we all left with new friends. We enjoyed our visits with her at the Cleveland Clinic, and now 2 weeks ago at St. E's. So thankful that we got in another visit before God relieved her of her suffering. Even to the end, she was happy to have visitors, and found ways to make others feel good. Goodbye, Peggy! We love you!"
» Marge Hoover on September 1, 2011
"I remember taking care of Peggy when she had her children at Northside Hospital. She left an impression on me at that time. She did well being a diabetic at that time and having children. I will always remember her smiling face. I met her again at the Canfield Fair when she was working for the Diabetes Association in their booth. She still had that same "Smile" I did not see the Diabetes Association represented at Canfield Fair this year and I remembered Peggy at that time.I was sorry to read about Peggy's death in todays paper. She was a brave and wonderful person that I am sure will be deeply missed by all of those whom lives she touched. My sympathy goes to all of fer family and friends whom I know will truly miss her. "
» Gail Halstead on September 1, 2011
"I loved Peggy so much. Our families were the best of friends growing up, and we had some really great times. I'll never forget her bubbly personality, infectious smile and genuine kindness. I will always remember making little clay "Buffy" dogs for her as a child, which she would proudly display on her curio shelf. I"ll never forget her. <3"
» Shelley Kautz on September 1, 2011
"Ever since our high school days together, Peggy was exhilarating every time we saw her. One of God's beautiful creations. That's how she'll be remembered."
» Elaine and Bob Fulton on September 1, 2011
"Peggy was a very special and dear friend. She was a great source of strength to us when our son was diagnosed with Juvenile Diabetes. I will always remember her great smile and caring ways."
» Diane Ziegler on September 1, 2011
"Peggy was a natural at making everyone around her feel special. When I was a little girl, I loved spending time with her and felt as if I was her "best friend." As I've read her obituary and the many wonderful comments from all those who love her, I realize that Peggy made everyone feel as if they were her best friend. How lucky we all are to have known her. I cannot reflect on my childhood without thinking of the Reinhardts and the Prouts and all the fun we had growing up. Peggy now joins Jim Hoover, Cort Prout and many others in Heaven, the Great Unknown. I am certain they all are at peace and proud of everyone who will send Peggy off at Pleasant Grove tomorrow. Jeff and Kevin: God bless you with wonderful memories of your loving mother."
» Cindy Hoover Naegele on September 2, 2011
"Peggy was a wonderful woman who truly loved everyone and life to the fullest. I will always remember her humor and strength and how she insisted I call her Peggy. God only knows how her and my dad are carrying on up there together. God Bless!!!"
» jim hoover on September 2, 2011
"My deepest sympathy to Jeff & Kevin and their families. Growing up with their family, Peggy always was happy and made everyone laugh. She will be missed. Anthony Antronica Family"
» Anthony Antronica on September 5, 2011
"Just learned of Peggy's passing and it is very sad news. Our kids went through school together and we had such fun watching the boys play baseball as well as all their other activities. She was just a terrific lady and very special. Our family extends our sympathy to Jeff & Kevin and all her family and loved ones."
» Judy Reed on September 18, 2011
"So sad to hear from a friend and classmate of Peggy's passing. I was the new girl our senior year and I have always remembered Peggy as the nicest, sweetest and most fun girl! She made my senior year much happier with her kindness and loving heart."
» Mary Jo (Mahon) Gerdeman on October 9, 2011
Sign the Guestbook
---