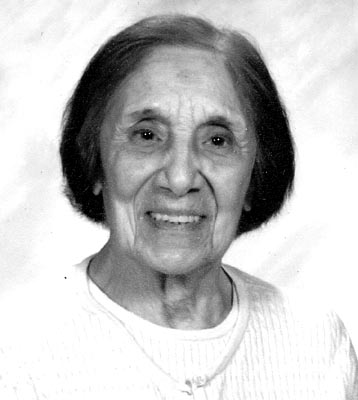 ROSE J. MAZERIK
YOUNGSTOWN – Rose J. Mazerik peacefully went home to the Lord on Sept. 29, 2011, surrounded by her loving family.
She was born in Youngstown, the daughter of Pasquale and Josephine DeLuca.
Rose was a lifelong resident of the Youngstown area, graduating from South High School and working at St. Elizabeth Health Center and the former Livingston's in downtown Youngstown.
She married Stephen Mazerik on June 27, 1946, at St. Patrick's Church in Youngstown and treasured her time thereafter as a caring homemaker and mother.
She belonged to St. Patrick's, St. Dominic's and most recently, St. Charles' parishes. Over the years, she participated in various parish ministries, including membership in St. Charles Ladies Guild.
She enjoyed shopping, walking and doting on her family, especially her grandchildren. Her favorite times were spent preparing for and hosting family gatherings. She was a wonderful wife, mother, grandmother, great-grandmother and friend.
She is survived by her son, Stephen (Bernie); daughter, Rosemarie (Ken-deceased); grandchildren, Jessica Mazerik and husband, Drew Steigerwald, Christina, Michael and Nicole Mazerik and Troy (Deirdre), Mark and Darla Wilson; and great-grandchildren, Brandy and Blake Wilson.
She was preceded in death by her parents; her husband, Stephen; and her siblings, Ralph, Anne Druzisky, Angelina (DeLuca) and Joseph.
Prayers will be Monday at 10:15 a.m. at the Higgins-Reardon Funeral Home, Poland Chapel, followed by a Mass of Christina Burial celebrated at 11 a.m. at St. Charles Church.
Friends may call from 4 to 7 p.m. Sunday at the Higgins-Reardon Funeral Home, Poland Chapel.
Guestbook Entries
"Please accept our condolences on the passing of your wonderful mother. She is always remembered as joy to visit and we know there is a special place in heaven for her."
» George & Marcy Kennedy on October 1, 2011
Nephew
"Aunt Rose will be dearly missed.Will join loved ones in heaven"
» John Druzisky on October 2, 2011
Sign the Guestbook
---