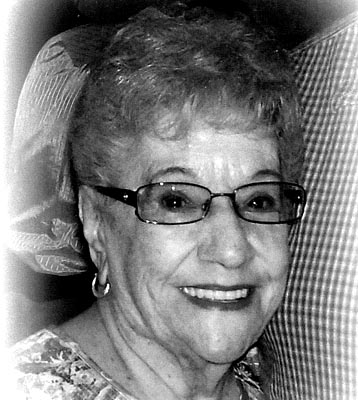 EDITH (GIOVANNI) SACKELLA DIETZ
NEW MIDDLETOWN – After a long and celebrated life Edith (Giovanni) Sackella Dietz, 93, peacefully passed away at Hospice of the Valley on Nov. 26, 2011, where her loving family had been gathered by her bedside.
Edith was born on Jan. 8, 1918, in Youngstown, a daughter of the late John and Theresa (Ciaffoni) Giovanni.
After attending Chaney High School, she worked for various jobs including several years at Carnegie Steel and Hathaway Bakery.
Her first husband, the late Steve Sackella, whom she married on May 25, 1938, passed away on Oct. 16, 1978. On Sept. 7, 1985, Edith and Charles J. Dietz were joined in marriage at the Chapel of Friendly Bells and together shared 26 wonderful years.
Edith loved her family dearly. Gatherings around her tinsel trimmed tree, delicious home made gnocchi's and pizzelles were Christmas traditions. A talented seamstress, she created beautiful hand stitched afghans, quilts, slippers and wall hangings. Edith collected Precious Moments, porcelain dolls and angels. She enjoyed travel, card club, hymns and game shows. When able, she celebrated her faith as a member of the Zion Lutheran Church.
A devoted mother, wife, grandmother, great-grandmother, and great-great-grandmother, Edith leaves to cherish her precious memory, husband Charles Dietz; son Stephen (Charlotte) Sackella; daughter Julie (Chuck) Phipps Sr.; stepson Jerry (Linda) Dietz; grandchildren Kimberly (Eric) Schlegel, Chuck (Shelly) Phipps Jr., Tod (Julie) Sackella, Brad (Kristen) Sackella, Frank (Jennifer) Dietz and Mark (Michelle) Dietz; great-grandchildren Jennifer McHenry, Jonathan (Hope), Justin and Josh Harbin, McKenzie and Marissa Phipps, Madison, Morgan, Andrew, Taylor and Mallory Sackella, Brianna, Cayla, Brandon and Kayden Dietz; great-great-grandchildren Chloe and Noah McHenry; sister Marian (Richard) Grate; brother August (Bette) Giovanni and Emanuel (Jean) Giovanni; sister-in-law Jeannette Giovanni; and numerous nieces and nephews.
Besides her parents, Edith was preceded in death by siblings Libby Pandone, Della Moore, Joseph Giovanni, Gabriel Giovanni, Lydia Laverie, Daniel Giovanni John Giovanni Jr., and infant sisters Mary and Lydia Giovanni.
Calling hours will be held at the Higgins-Reardon Funeral Home, Poland Chapel on Tuesday from 4 to 8 p.m. and on Wednesday from 10 to 11 a.m. at the Zion Lutheran Church of New Middletown, 10857 Main St.
The 11 a.m. funeral service to officiated by Pastor Larry Klinker will follow at the church.
Interment will take place at Forest Lawn Memorial Park.
Guestbook Entries
"Our sincere sympathy to uncle Chuck and family"
» Bob and Rosemarie Savel on November 28, 2011
"FRANK, So sorry to hear of your loss"
» tim woolley on November 28, 2011
"I sure remember playing penny ante poker at the kitchen table with Aunt Edith and my mom, while Uncle Steve and my dad (and probably you, too, Steven) went to the Tangiers. The women drank coffee, and I stayed up late, late,late. I also remember Aunt Edith's spaghetti sauce. I always had a bowl of spaghetti at her house, and she taught my mom how to make that real Italian sauce. I make the exact same recipe to this day and call it Aunt Edith's Spaghetti Sauce. I also have some beautiful needlepoint ornaments she made for us, patchwork pillows, and a baby quilt with an appliqued teddy bear that still hangs in Haley's closet. Aunt Edith made it for me when I had Haley in 1982. My mom had already passed away in 1981. I always remembered she did that for me when I had my first child."
» Rose Marie Sackela on November 29, 2011
"So sorry to hear of Mrs. Dietz passing. She was a beautiful lady with a beautiful smile. My prayers and condolences to the family. - And love & hugs to the Sackella's (Uncle Steve, Aunt Charlotte, Tod, Brad & families) "
» Tricia Church & Family on December 2, 2011
Sign the Guestbook
---