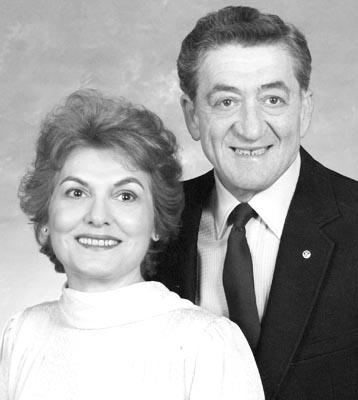 VERA M. CAMPANA
"Together Again"
BOARDMAN – Family and friends will gather in honoring Vera's 91 years of life at 10 a.m. on Monday, Nov. 28, at the Rossi Brothers and Lellio Funeral Home, 4442 South Ave. in Boardman. She passed away Friday at St. Elizabeth Health Center.
Vera was born in Youngstown on April 24, 1920, to Chris and Rose Coccaville Rand.
Like many Rosie the Riveters of her generation, she worked at the Ravenna Arsenal and General Fireproofing while waiting for her man to return from World War II service. She married Albert J. Campana in 1944.
She worked in the Better Jewelry and Forecast departments of Strouss-Hershberg for 25 years, and filled her time in retirement by volunteering at North Side Hospital. Vera was an excellent cook whose pasta sauce should be the envy of any Italian restaurant. Up to her passing, she took great pride in preparing full holiday dinners for her family. She stayed sharp by doing crossword puzzles, reading and playing no-holds-barred gin with her sons.
Vera is survived by a brother, Daniel (Trish) Rand; sons, David Sr. (Betty) and Lewis (Melissa) Campana; grandchildren, David Jr. (Tim Danser), Sandi (Joseph) Casal and Erica Galpin; and great-grandchildren, Alec and Nathan Casal.
She rejoins Albert, who died in 1998; brothers, Joseph, Leo, Floyd, Victor and David Rand; sisters, Katherine Bartolec, Marie Pesa and Virginia Rogan; and beloved dogs, Sam, Mitsy and Heidi.
Calling hours are from 4 to 7 p.m. on today, Nov. 27, at the funeral home.
Her family requests memorial tributes to be made in her name to the Second Harvest Food Bank, 2805 Salt Spring Road, Youngstown, OH 44509.
Family and friends may visit the Book of Memories at www.rossifunerals.com to view this tribute and send condolences to Vera's family.
Guestbook Entries
"Our condolensces to Vera's family from her family here at Mill Creek Woods Condominiums."
» Mill Creek Woods HOA on November 27, 2011
"Rest in peace, Aunt Vera. I will surely miss our visits and phone chats. How lucky I was to have you in my life...Love, Kathy"
» Kathy on November 27, 2011
"Dave, I am so sorry to learn of the death of your mother. Please accept my sympathy. You and your family will be in my prayers."
» Mrs. Susan Centorame on November 28, 2011
"My condolensces to the family. She was such a nice lady."
» linda bartolec on November 28, 2011
Sign the Guestbook
---