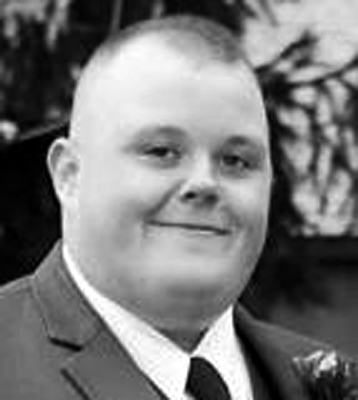 JAMES S. EVANSON
STRUTHERS – James Stephen Evanson, 26, passed away early Sunday morning, Nov. 6, in Youngstown.
James, known as "Jamie" or "Bear" to his friends and family, was born May 7, 1985, in Youngstown. He was a beloved son, grandson, brother, nephew, cousin, godfather and friend.
James is survived by loving parents, Stephen and Rebecca Hart Evanson of Struthers; sister, Jessica (Robert) Meyer of Boardman; girlfriend, Megan Boosinger and her family, Kathy, Garry and Brittany of Poland; grandparents, James and Wilma Hart of Struthers; aunts and uncles, Debbie Horvath (Randy Hinderliter) of Austintown, Donald Hart of New York, Michael (Maggie) Evanson of Struthers and Peg (Glen) Speirs of Reading, Pa.; godfather, James Horvath of Campbell; cousins, Eric, Shannon, Kellen and Reilly Horvath of Asheville, Jackie Horvath of Boardman, and Desiree Evanson of Struthers; and goddaughter, Brynn Capelli of Boardman.
James was preceded in death by grandparents, Stephen and Margaret Evanson of Struthers.
James graduated from Struthers High School in 2003 and was employed by Starr Wheels in Warren. James was an avid football and Cleveland Browns fan, loved to draw and paint and enjoyed spending time with his family and many friends.
James will be truly missed by all who knew and loved him. His smile, sense of humor and caring personality will forever live on in our memories.
A Mass of Christian Burial will be held Friday at 1 p.m. at St. Nicholas Roman Catholic Church in Struthers.
Friends may call Thursday from 5 to 8 p.m. at the Davidson-Becker Funeral Home in Struthers where a prayer service will be held Friday at 12:15 p.m.
In lieu of flowers, James' family asks that donations be made to the Struthers School Foundation for Educational Excellence.
Visit www.beckerobits.com to send condolences.
Guestbook Entries
"Becky & Steve: Bruce and I are so sorry. We remember Jamie as always smiling and laughing. He will be greatly missed. Our prayers are with you."
» Maggie & Bruce Streb on November 9, 2011
"We will miss you and your big heart!! Our prayers go out to your family and Megan."
» Dawn H on November 9, 2011
Reverend Mr.
"Our condolences are offered to you the family, on behalf of Fr. Bob, Fr. Bernie, myself and the staff at St. Nicholas Parish."
» John Terranova on November 9, 2011
"Our hearts go out to Megan, your friends, and family. You will be missed."
» Craig Marshall on November 9, 2011
"Becky, Steve and family, there are no words. We just want you to know we care."
» Julie and Bill George on November 9, 2011
"Our sincere condolences to your family. Our prayers are with you."
» Jim, Marilyn, Andy & Mary Cook on November 10, 2011
"We are so very sorry for your loss. Please know that you are in our thoughts and prayers."
» The McWreath Family on November 10, 2011
"We are so sorry for your loss. Please know that you are in our thoughts and prayers"
» The Acierno Family on November 11, 2011
cousin
"My prayers go out to you."
» Terry Bogdan Stapleton on November 11, 2011
"So sorry to have to hear this news. I pray for you all daily. May the peace of God rule and reign in your hearts now and always. Know that you will see him again one day."
» Fran Bogdan on November 11, 2011
"This is so terrible. I remember Jamie from when I was a kid. My prayers are with his sister,mom, dad, and grandparents"
» Mary Cook on November 14, 2011
Owner
"Our condolences goes out to the family. James will truly be missed."
» Extreme Car Customs on November 17, 2011
Sign the Guestbook
---